What is Laminated Object Manufacturing (LOM)?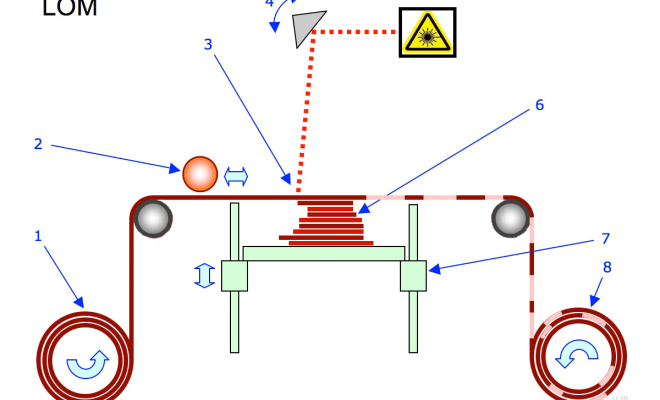 Laminated Object Manufacturing (LOM) is a type of 3D printing technology that involves the creation of three-dimensional objects through the layering and bonding of paper or plastic sheets. LOM was first developed in the 1990s by Michael Feygin, who aimed to create a more affordable and accessible method of 3D printing.
The LOM process typically starts with a Computer-Aided Design (CAD) model that is uploaded to a computer software program. The program then uses a cutting tool to cut the desired shape out of a stack of paper or plastic sheets. The layers are then bonded together using heat, pressure, or an adhesive, depending on the material used. Finally, excess material is removed and the finished product is ready for use.
The materials used in LOM include paper, plastic, or composite materials, which make it a cost-effective manufacturing option for large objects. Most commonly, the paper sheets are made from copy paper or engineering paper, while plastics such as polycarbonate, ABS, or nylon can also be used.
One of the advantages of LOM is that it can produce objects with a smooth surface finish and a high level of accuracy. Objects produced through LOM have a solid, dense structure and high dimensional stability, making them suitable for a wide range of applications. Additionally, LOM can create objects with large dimensions, such as architectural models or full-size prototypes for product design.
LOM is particularly useful in architectural and engineering applications, where large-scale, three-dimensional objects are required to be produced accurately and cost-effectively. This includes the creation of building facades, detailed models of cityscapes, and 3D printed parts for vehicles and machines.
As with any manufacturing process, there are some disadvantages to LOM. The material used in LOM can be expensive, particularly if high-grade papers or plastics are used. Additionally, the layering process can take longer compared to other 3D printing methods, as each layer needs to be cut and bonded together, which can result in slower production times.
Despite these limitations, Laminated Object Manufacturing remains a cost-effective and accessible 3D printing technology that is capable of producing detailed and accurate objects with a smooth surface finish. As it continues to evolve and improve, LOM could become an essential manufacturing method for various industries.