What Types of Posts Can You Make in Google Classroom?
You can post almost anything in Google Classroom to start; Google Classroom allows you to make five different types of posts:
Assignment: Posts in which learners can submit assignments. Assignments can be on any topic or subject. You can have students complete assignments in many different formats, such as a Google Slides presentation, or charting data on a Google Sheets form. You can create a variety of assignments that meet the needs of all learners in your Class, and the learning content you want to cover. The possibilities are endless.
Quiz Assignment: Posts in which you can develop a Google Form quiz from Google Classroom. You have the option of making the quiz multiple choice or short answer. It will automatically grade the quiz for you as well. What a time saver! Students can see their grades once they submit their quiz, which helps to provide immediate feedback to them.
Question: Posts in which you can ask learners a question and learners can respond with a short answer or answer multiple-choice questions. This is great for asking a quick question to all your students at the same time. Perhaps you want to ask an exit ticket type question to see if students understood the objective of your lesson. Or you might need to find out what day is best for a video chat lesson. Post your question and you can immediately get student feedback and responses.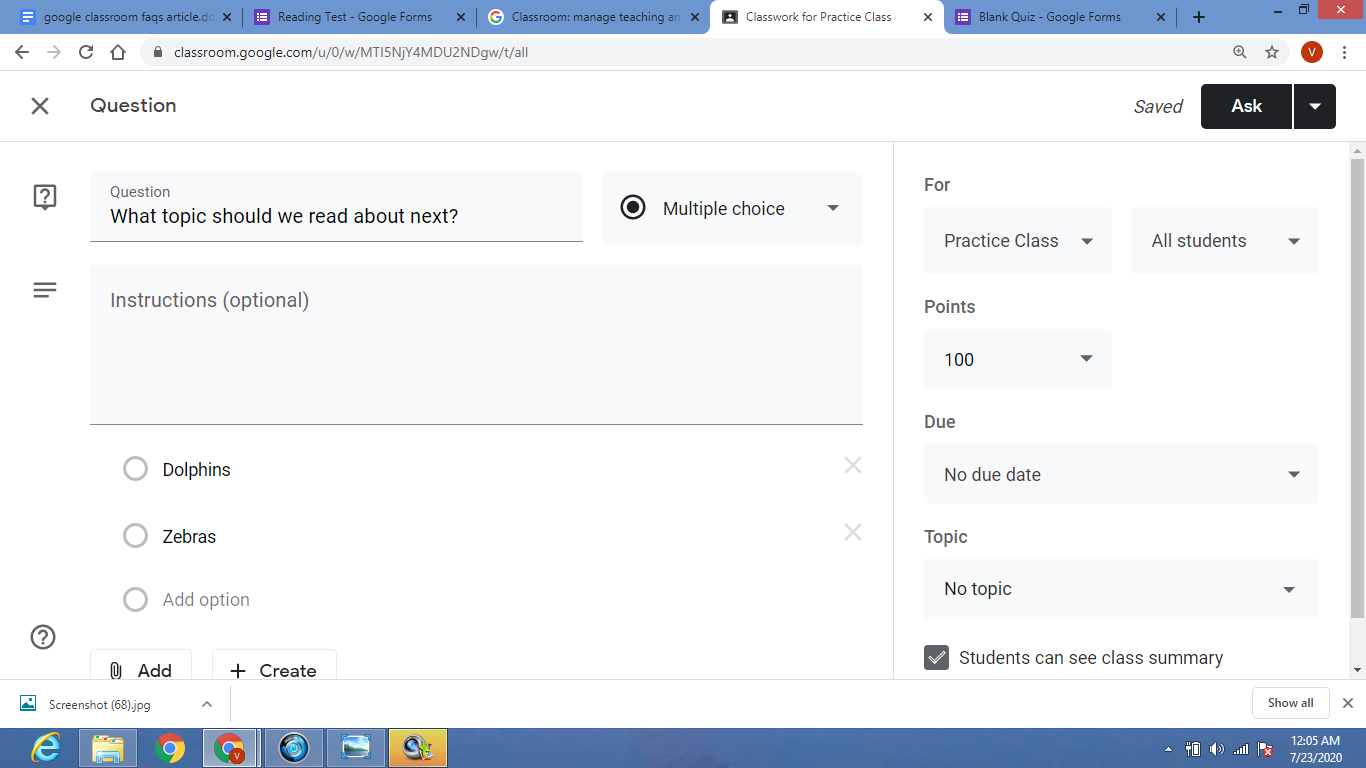 Material: Posts in which you are giving information to learners; learners do not submit their assignments. This is a great way to share educational resources to teach or review content. Material that can be shared could be a link to a website, educational videos, important documents, an interactive slideshow, an informational poster, or a study guide.
Post to the Stream: An announcement, item, or link you post to the Stream that learners see when they access Google Classroom. This will be the first thing the students see when they log in. Great for sharing an important message to every member of your Class, or you can pick and choose who sees your post if you are trying to reach particular students.
You can link to an existing Google Doc, Slide, or Form that is in your Google Drive on any of your posts. Also, you can develop a new Google product from a post. You can link to a website, YouTube video, or PDF file as well. Many apps can integrate with your Google Classroom.