What is the Easiest Way to Set Up Google Classroom?
Google Classroom is an innovative online learning platform that is easy for educators to implement, and engaging for learners. You will find it is easy to set up and intuitive. Here is how you can set up your Google Classroom educator account:
1. Sign up
After you go to classroom.google.com, you can use Classroom by logging in using a G suite email address or using it without "claiming" to use it for education. Everything works just fine that way too. It is just harder to manage your learners if you have hundreds of them. You will add them one by one, which can be very time-consuming.
2. Create your first Class
Click on the "+" button, which is located in the right upper corner. Choose to "Create a class." Here, you fill in information about your Class. Write down an amazing class name and section. Then click on "Create."
3. Invite learners to your Class
Once you have developed your Class, you can invite your learners. Let learners sign in using the Google Classroom app by entering the unique code you give them. You will find the class code in your developed Classroom. Go to the tab "People" and under "Students" it will list your class code. Another option is to invite your learners one by one by entering their email address. One thing you must keep in mind: your learners need to have a G Suite for education email or a Google email address.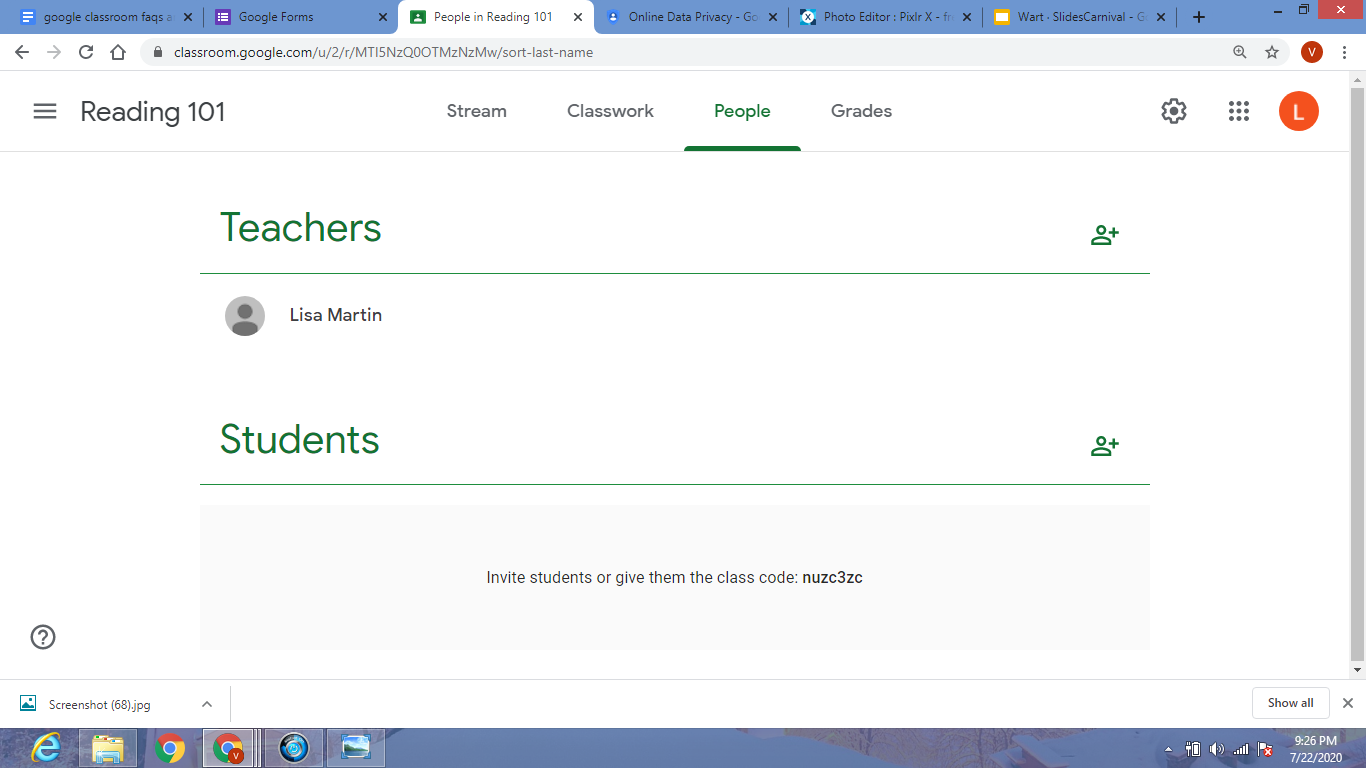 You can also let your learners go to classroom.google.com. Learners can click on "Join class," enter the classroom code, and that's it. This might be a bit quicker as you don't have to manually type in every learner's email address.
Now your online Class is ready! At least, it is there, and everyone can access it. There are several other things you must do before you can take off.
Create your first assignment, or you make an announcement. You can share the initial announcement in the Stream, or go to Classwork to create an assignment. Click on the "+ Create" button and disseminate your first Google Classroom learning activity (assignment). Don't forget to number your learning activities (assignments). It is easier for your learners to see which one comes first as you are unable to reorder learning activities (assignments) in the Stream. You can move learning activities (assignments) around to the top. Click on the title to determine if any learners have handed in the learning activity (assignment) and give grades and feedback. Afterward, you can return the learning activities (assignments) to your learners to start editing again.
Add lesson content to your learning activity (assignment)/ class. Add content from Google Drive or add a video, a file, a link, etc. These options can be found right beneath the due date. If you just want to share a class presentation that is not linked to a learning activity (assignment), you can post it on the Stream instead of under the Classwork tab. You can add lesson content such as slides, interesting articles, and examples.
Access the Drive folder. Every time you create a class, Google Classroom creates a Drive folder for that Class. You can access the folder by going to the tab "Classwork". You will find a folder icon titled "Class Drive Folder" on the right-hand side. Click on it, and you're in the folder. Here you can add class content too. All your learner's learning activities (assignments) automatically end up in the Google Drive folder, so it will always be easy to locate.