How to Watch DirecTV on My PC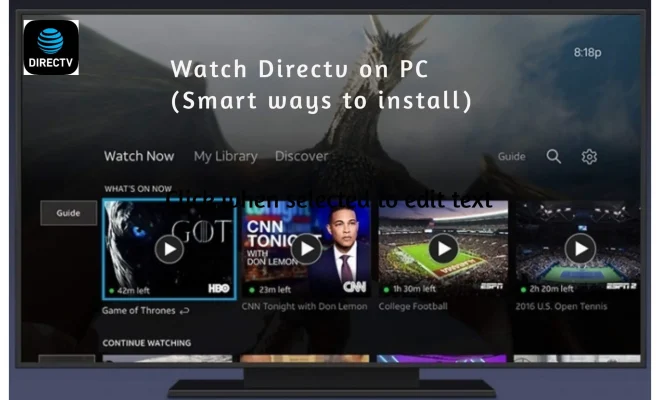 Are you a DirecTV subscriber and wondering how you can watch your favorite shows on your PC? Lucky for you, it's easy to do with a few simple steps. Here's a guide to show you how:
Step 1: Register Your DirecTV Account Online
To access DirecTV from your PC, you need to log in to your account. If you haven't done so before, visit the DirecTV website and click on 'Sign In' which is located at the top-right corner of the page. On the next page, click on the 'Create Account' button and follow the on-screen instructions to register your account.
Step 2: Download DirecTV Player
Once you have registered your account, you can download the DirecTV Player from the DirecTV website. The DirecTV Player is a program that allows you to watch DirecTV on your PC. Click on the 'Watch DirecTV' button on the homepage, and it will lead you to the player's download page. Follow the prompts to install the player, and when it's done, open it up.
Step 3: Sign in to DirecTV Player
When you open the DirecTV Player, you'll be prompted to sign in to your account. Enter your login details, and you'll be able to access all the content that's included in your subscription. The interface looks just like the DirecTV website, so it's easy to navigate.
Step 4: Start Watching DirecTV on Your PC
Now that you have access to your account and the DirecTV Player is installed, you can start watching your favorite shows. Simply browse for the channels or shows you want to watch, and click on them to start streaming. You can also use the search bar to find particular shows, movies or available channels.
Step 5: Use the DirecTV Remote Control
The DirecTV Player comes with its own remote control, which you can use to control the channel, volume, playback and more. To use the remote control, click on the remote icon, which is located in the bottom-right corner of the player. The remote control will pop up, and you can use it to navigate and control playback. Watching DirecTV on your PC is quick and straightforward. You only need to register your account, download the DirecTV Player, sign in, and start streaming. Once you have everything set up, you'll enjoy your favorite shows on your PC anytime and anywhere. So, what are you waiting for? Register your account and start watching today