How to Take a Scrolling Screenshot in Android 12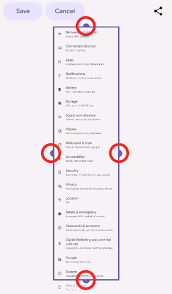 Android 12 comes with a bunch of new features and functionalities that makes things easier for users, including taking scrolling screenshots. A scrolling screenshot refers to a single, long screenshot that captures an entire web page, document or app screen that needs to be scrolled down to see the complete content. This feature proves useful whether you want to save important information in its entirety or share the complete view of a web page or app UI.
So, how do you take a scrolling screenshot in Android 12? Here's a step-by-step guide to help you out:
Step 1: Take a regular screenshot
To take a scrolling screenshot, you first need to take a regular screenshot of what you want to capture. To take a screenshot, you can either press the power button and the volume down button simultaneously or simply swipe down with three fingers on your screen. You should see a preview of the screenshot right after you capture it.
Step 2: Tap the screenshot preview
After you've taken a screenshot, tap the screenshot preview in the bottom-left corner of your screen. This will bring up a menu of options that you can use to edit or share your screenshot.
Step 3: Tap on the "Capture More" option
In the screenshot preview menu, you will see an option labeled "Capture More." This is the option that allows you to take a scrolling screenshot. Tap on it to start capturing the rest of the screen, followed by a long screenshot.
Step 4: Keep scrolling and capture
After tapping on "Capture More," the screen will scroll down automatically, allowing you to take a full-length screenshot of what you're viewing. Keep scrolling until you reach the end of the content you want to capture. Once you've reached the end of the content, tap on "Done" to save the screenshot.
Step 5: Edit or share the screenshot
Once you've taken the scrolling screenshot, you can edit it or share it as you would with a regular screenshot. Simply tap on the screenshot preview again to bring up the menu of options.
And that's it! Taking a scrolling screenshot in Android 12 is really simple and can be done quite easily. With this feature, you can capture and share a complete view of any web page, app screen, or document that you want. So, whether you're a student or a professional, having this feature on your Android 12 device can come in handy.