Feeling nostalgic for the Yahoo homepage? There's an app for that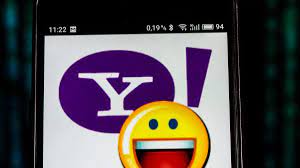 In the age of tailored newsfeeds and personalized content, some individuals long for the simplicity of the past. If you find yourself reminiscing about the good old days of the Yahoo homepage, we have good news for you! A new app has emerged to cater to your nostalgia and bring back those fond memories.
1. The Rise and Fall of Yahoo's Homepage
– Discuss the popularity of Yahoo's homepage during its peak in the late 90s and early 2000s
– Explore its decline, as people gradually shifted to other search engines and content platforms
2. The Nostalgia Factor
– Explain why some users feel nostalgic about Yahoo's homepage, including its straightforward interface and comfort in familiarity
– Highlight how present-day online experiences can sometimes feel overwhelming with limitless choices and content
3. Presenting the New App
– Introduce the app designed to recreate the feeling of browsing through the classic Yahoo homepage
– Emphasize that it does not replace services but instead aims to evoke a sense of nostalgia for those who miss this era
4. Features of the App
– Detail how developers have incorporated elements from Yahoo's homepage
– Discuss specifics such as curated news articles, stock quotes, weather updates, and more – all within that nostalgic interface
5. Positive Impact on Mental Well-being
– Draw parallels between nostalgia and mental well-being using studies which show that nostalgia can improve mood and reduce stress
– Suggest that indulging in nostalgia through this app could potentially provide a psychological benefit for users
6. How to Get Started
– Provide instructions on finding and downloading the app on various devices
– Outline any potential sign-up process or requirements (if applicable)
Conclusion
While modern technology continues to advance, sometimes all we need is a blast from the past to remind us of simpler times. With this app, users can now experience the Yahoo homepage once again, satisfying their nostalgia and providing a much-needed respite from the overwhelming barrage of information found in today's digital landscape.