What is Wearable Technology? Definition, Uses and Examples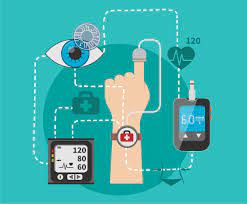 Wearable technology refers to electronic devices that can be worn on the body, often in the form of clothing or accessories, to perform various functions. These devices typically combine functionality and aesthetics to provide a seamless user experience that improves daily life. From fitness trackers that monitor physical activity to smartwatches that allow for hands-free communication, wearable technology offers a wide range of uses and benefits.
The definition of wearable technology continues to evolve as new devices are introduced to the market. At its core, however, wearable technology involves the integration of advanced electronics into everyday clothing or accessories. Wearable devices may include sensors, microprocessors, and wireless communication technology, all of which work together to provide a variety of services and capabilities.
One of the most popular uses of wearable technology is for fitness tracking. Devices such as fitness bands and watches track the wearer's physical activity, including steps taken, distance traveled, and calories burned. They can also monitor heart rate, sleep patterns, and other health metrics.
Another common use of wearable technology is for communication. Smartwatches, for example, can connect to a user's smartphone and allow for hands-free calling and messaging. They also provide access to various apps, such as calendars and weather updates, all from the convenience of the wrist.
Other wearable technology devices offer more specialized uses. For example, some smart glasses can display augmented reality overlays that provide users with additional information about their surroundings. Smart clothing can also be designed with integrated sensors that monitor posture or provide haptic feedback to aid in rehabilitation.
Examples of wearable technology continue to expand, with new devices being developed all the time. Some other popular wearable devices include:
– Virtual reality headsets
– Smart rings that track sleep or fitness metrics
– Smart shoes with built-in GPS
– Smart jewelry that can be used for payments or communication