What is wearable technology?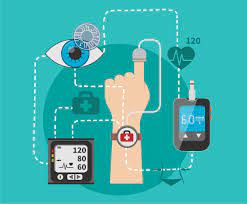 Wearable technology, or simply wearables, is a term used to describe smart electronic devices that are worn on the body, either as accessories or as clothing. This technology includes a wide range of devices, such as smartwatches, fitness trackers, VR headsets, smart clothing, and more.
The primary purpose of wearable technology is to capture and process data from the wearers' physical activities, to help them manage their fitness, health, and overall wellness. Wearables can track various metrics, such as heart rate, calorie burn, steps taken, and sleep patterns. They also offer notification alerts, GPS tracking, and social media connectivity.
The concept of wearable technology has been around for many years, with early examples dating back to the 1980s. However, it was not until the arrival of smartphones and the introduction of advanced sensors and connectivity options such as Bluetooth and Wi-Fi that wearables became a mainstream technological trend.
One of the most popular examples of wearable technology is the smartwatch. A smartwatch is essentially a wrist-mounted computer, with a screen that displays notifications, allows users to make phone calls, and run various apps. Many smartwatches also include fitness tracking features that monitor various activities and health parameters.
Fitness trackers are another popular type of wearable technology. They are smaller and focused on fitness activities, such as counting steps, tracking workouts, monitoring heart rate, and sleep patterns. Fitness trackers are often used by athletes, fitness enthusiasts, and individuals who want to maintain a healthy and active lifestyle.
Virtual Reality (VR) headsets are also a growing category of wearable technology. They provide an immersive experience by using high-definition displays, motion tracking sensors, and advanced software to create 3D simulations of virtual worlds, games, and training simulations.
Smart clothing is another innovative use of wearable technology. Incorporating sensors and electronics into clothing, it can track the wearer's vital signs, detect posture, and even monitor skin temperature. This clothing is being designed and marketed for various industries including healthcare, sports, military, and fashion.