What is Sketchup (and How Do I Use It)?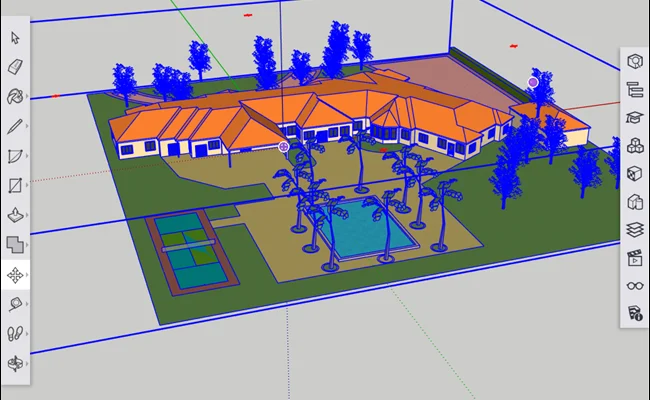 SketchUp is 3D modeling software known for its easy-to-use interface and accessibility. It has become a staple tool in the fields of architecture, engineering, and interior design for its ability to create advanced models with a few clicks of a button.
SketchUp was initially released in 2000 and was later acquired by Google in 2006 before being sold to Trimble Inc. in 2012. SketchUp is available in two main versions: SketchUp Free, which is a web-based browser version, and SketchUp Pro, which is a desktop application. Both versions allow users to create, modify and share 3D models with others.
SketchUp allows users to create 3D models using a combination of primitive shapes like squares, circles, and triangles, and by extruding or subtracting volume from these shapes. Additionally, it has a few unique features such as push/pull, which allows users to shrink, stretch, and add volume to any geometry in their model. Another feature is Follow Me, which enables users to create complex shapes by extruding a shape along a path.
SketchUp also includes a wide array of tools to help users create accurate measurements and dimensions for their models. These tools ensure that every element of the design is precisely in the right place and scale. The software also has a vast library of pre-made components ranging from furniture and appliances to trees and cars, making creating complex models much easier.
SketchUp is fast and intuitive, making it an excellent choice for beginners and professionals alike. The software is easy to learn but powerful enough to create detailed models of entire buildings with intricate details. SketchUp is also known for its compatibility with other software, such as Revit or AutoCAD, allowing users to import and export files between different programs.
To use SketchUp, first, download and install the software on your computer. Next, watch tutorial videos or read guides to become familiar with the software's interface and tools. Once you're comfortable, begin creating models using the built-in tools and pre-made components. Save your models to your device or share them on the SketchUp platform for others to access.