Top 10 Benefits of Blockchain Technology for Business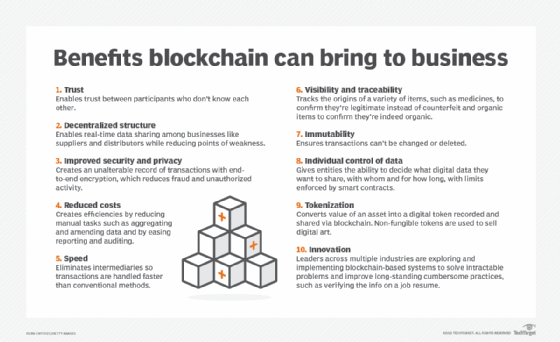 Blockchain technology has recently made its way to the forefront of the business world, and its benefits are becoming increasingly apparent. Not only does this technology make it easier to manage and secure financial transactions, but it also has the potential to revolutionize the way businesses manage their day-to-day operations. Here are the top ten benefits of blockchain technology for business:
1. Decentralized System: Blockchain technology allows for a decentralized system, where transactions are verified and recorded by a network of nodes, rather than a centralized authority. This eliminates the need for intermediaries and reduces the cost of transaction fees.
2. Increased Security: Blockchain technology is known for its high level of security. Transactions are encrypted and cannot be altered once they are recorded on the blockchain. This makes it more difficult for hackers to gain access to sensitive information, preventing data breaches.
3. Improved Transparency: All transactions on the blockchain are transparent and can be accessed by anyone. This provides businesses with a clear view of their financial transactions and can help to prevent fraudulent activity.
4. Improved Efficiency: Blockchain technology can improve the efficiency of business operations by automating processes and reducing the need for intermediaries. This can lead to faster transaction times and reduced costs.
5. Reduced Costs: Due to the decentralized nature of blockchain technology, there is no need for intermediaries or middlemen, which can reduce transaction costs for businesses.
6. Faster Transactions: Blockchain technology allows for faster financial transactions, reducing the time it takes for payments to be processed, verified, and settled.
7. Borderless Transactions: Blockchain technology enables transactions to be made across borders without the need for traditional banking channels. This can be a significant advantage for businesses operating in multiple countries.
8. Immutable Records: Once a transaction is recorded on the blockchain, it cannot be altered, making it an immutable record. This can be useful in the case of disputes or legal proceedings, as there is a clear record of what happened.
9. Increased Trust: Blockchain technology can help to increase trust between businesses and customers or clients. The transparent nature of the blockchain provides a clear record of transactions, reducing the potential for fraud or misunderstandings.
10. Smart Contracts: Blockchain technology allows for the creation of smart contracts, which are self-executing contracts with the terms of the agreement written into computer code. This can automate and streamline contract negotiations and performance, reducing the need for intermediaries and increasing efficiency. In conclusion, Blockchain technology offers numerous benefits for businesses, including increased security, transparency, efficiency, and cost savings. As the technology continues to evolve, we can expect to see more businesses adopting blockchain technology to streamline their operations and benefit from its potential.