Top 11 Ways to Fix Wi-Fi Connected But No Internet on Windows 11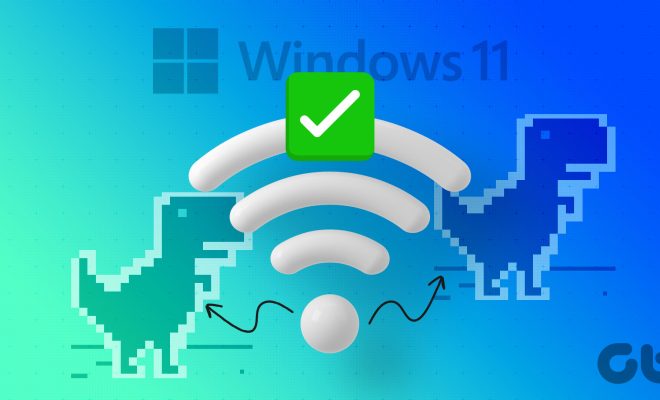 In today's world, it's nearly impossible to imagine life without the internet. It has become an essential part of our lives, and it's frustrating when the Wi-Fi is connected, but there's no internet connection. This can happen on Windows 11, which is one of the most popular operating systems. But, there are always solutions to tech problems, and in this article, we will discuss the top 11 ways to fix Wi-Fi connected but no internet on Windows 11.
1. Restart the Router
The first and easiest troubleshooting method for Wi-Fi connectivity is to restart the router. This can fix basic problems with connectivity and is usually the first step to take.
2. Update the Router Firmware
If the router's firmware is outdated, it can cause problems with the internet connection. Updating it might fix the issue.
3. Check the Network Status
Next, you need to check the network status to ensure it's connected. Tap on the Windows key and go to Settings> Network & Internet > Status > Network troubleshooter. This will identify any problems and fix them automatically.
4. Reset the Network
You can perform a network reset guide by clicking on Settings and search for "Network Reset". This will remove all network attributes, passwords, and configurations.
5. Disable and Enable the Network Adapter
Open the Device Manager, expand Network Adapters, right-click your adapter, and select Disable. Wait for a few seconds, right-click again and select Enable. This should fix the issue.
6. Update Network Drivers
Outdated network drivers can also cause connectivity issues on Windows 11. You can update the drivers manually or use software to do it automatically.
7. Renew the IP Address
Press the Windows key and search cmd, right-click Command Prompt, and select "Run as Administrator". Type "ipconfig /release" and then "ipconfig /renew". This will reset the IP address and might fix the issue.
8. Disable IPv6
Disabling IPv6 has helped many users to fix the "Wi-Fi connected but no internet" error. Go to Settings > Network & Internet > Change Adapter Options > Right-click on your Wi-Fi network > select Properties > Uncheck "Internet Protocol Version 6 (TCP/IPv6)" and click OK.
9. Check the Firewall
Windows comes with a built-in firewall, which can sometimes block internet access. Disable the firewall temporarily and check the connection. If this resolves the issue, add the application to the firewall exceptions list.
10. Clear Browser Cache
Sometimes, clearing the browser cache can help fix connectivity issues. In your browser, go to Settings > History > Clear Browsing Data. Select "Cached images and files" and click Clear Data.
11. Contact Your Internet Service Provider
If none of these solutions Solve the Problem, Contact your internet service provider. There may be a problem with your service, and their representative will be able to assist you further.
In conclusion, there's nothing more frustrating than having a connected Wi-Fi but no internet. These troubleshooting methods can be useful for fixing the issue on Windows 11. If nothing works, reach out to your internet service provider. Following these steps will ensure you get back on track and stay connected to the internet.