Movember and No-Shave November: A Brief History and Participation Guide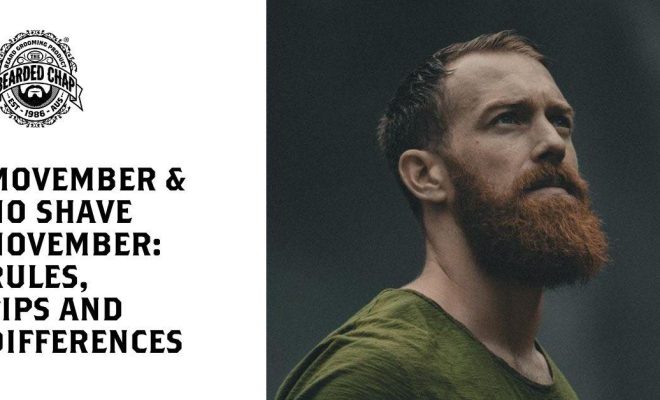 Introduction:
Every year as the calendar turns to November, millions of people around the world put away their razors and embrace facial hair growth for a month-long journey of self-expression and awareness. This tradition is rooted in two popular movements, Movember and No-Shave November. In this article, we explore the history of these events and outline the ways in which you can participate.
Movember:
The story of Movember dates back to 2003 in Melbourne, Australia when two friends, Travis Garone and Luke Slattery, decided to bring back the mustache as a fashion statement. The duo soon realized that the growing popularity of their initiative could be harnessed to raise awareness for men's health issues like prostate cancer, testicular cancer, and mental health.
In its first year, only 30 people participated in Movember by growing a mustache. They expanded their efforts in 2004 by partnering with the Prostate Cancer Foundation of Australia (PCFA), turning Movember into an official charity event. Since then, the Movember movement has gained international recognition with more than six million supporters across 20 countries, raising over $1 billion for men's health initiatives.
No-Shave November:
Founded in 2009 by the Hill family from Illinois, No-Shave November strives to raise awareness for cancer through a month-long event that encourages participants to grow out their facial hair. The concept was inspired by their father Matt Hill's battle with colon cancer which ultimately took his life in 2007.
Unlike Movember, No-Shave November invites both men and women to participate based on the premise that everyone can grow some form of hair. The initiative aims to spread awareness about various types of cancers while collecting donations for cancer research and education programs.
How to Participate:
1. Choose your cause: Decide whether you want to join the Movember or No-Shave November movement. Movember focuses on growing a mustache while No-Shave November embraces all forms of hair growth.
2. Register online: Visit the official websites of Movember (https://www.movember.com) or No-Shave November (https://no-shave.org) to create your profile and join their respective communities. You can also participate as part of an existing team or create your own.
3. Grow your facial hair: Put down the razor and let your facial hair grow throughout November. This will help spark conversations about men's health or cancer awareness in your community. Document your progress with photos and share them on social media using relevant hashtags like #Movember or #NoShaveNovember.
4. Fundraise: Encourage friends, family, and colleagues to donate to the cause through your personal fundraising page. Funds raised for Movember are directed towards men's health initiatives, while those collected during No-Shave November are allocated to cancer research and education programs.
5. Share your experience: Use social media platforms to share your journey, foster discussions on men's health or cancer awareness, and motivate others to become part of these philanthropic initiatives.
Conclusion:
Movember and No-Shave November have gained widespread popularity over the years, turning a simple idea of growing facial hair into an impactful movement for raising awareness and funds for pressing health issues. By participating in these events, you contribute not only to breaking stereotypes surrounding facial hair but also support global efforts to improve the lives of millions affected by men's health challenges or cancer-related illnesses. Happy growing!