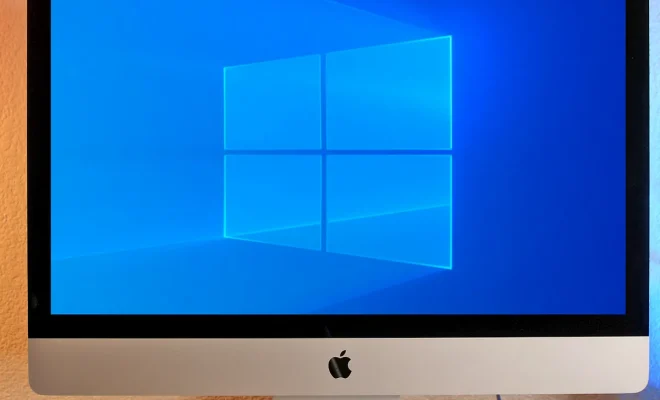 If you are experiencing problems with your Windows operating system or your computer's performance is slow and lagging, it may be time to reinstall Windows. Reinstalling Windows is a simple process that can solve a variety of software-related issues, such as a corrupted system file, viruses, or a malfunctioning driver. In this article, we will go through the steps on how to reinstall Windows on your computer.
Step 1: Backup your data
Before you begin the reinstallation process, you need to back up all your important data, including documents, pictures, music, and videos. You can use external hard drives, USB drives, or cloud-based storage services to back up your data. Keep in mind that reinstalling Windows will erase all your data, so back up everything you need before proceeding.
Step 2: Create a Windows Installation media
To reinstall Windows, you will need to create a Windows installation media. You can do this by using a USB flash drive or a DVD. You will also need a valid license key to activate Windows after the installation process is complete.
To create a Windows installation media, visit the Microsoft website and download the Media Creation Tool. The tool will guide you through the process of creating a bootable USB or DVD.
Step 3: Boot from the Windows Installation media
Once you have created the installation media, insert it into your computer's USB port or DVD drive. Restart your computer and press the key that takes you to the system configuration, usually by pressing F2 or Delete during startup. In the system configuration, go to boot options and select the USB or DVD drive as the boot device. Save changes and restart your computer.
Step 4: Install Windows
Once your computer boots from the installation media, you will see the Windows setup screen. Follow the on-screen instructions to install Windows on your computer. You will be prompted to enter your license key during the installation process. Choose the language and region settings that match your preferences, and click next.
Step 5: Format the Hard Drive
Before the installation process can begin, you will need to format your computer's hard drive. Formatting the hard drive erases all the data on the drive, so make sure you have backed up all your important files before proceeding.
Step 6: Complete the Installation
After you have formatted your hard drive, the installation process will begin. This can take some time, and your computer will restart several times during the process. Once the installation is complete, you will be prompted to set up your computer, including your personal preferences and settings.
Step 7: Update Windows
After the installation process is complete, you should update Windows to ensure that your computer is running the latest version of the operating system. Go to the Windows Update settings, and check for updates. Download and install any available updates to ensure your computer is running smoothly.
In conclusion, reinstalling Windows is not as complicated as it may seem. With the right tools and the steps outlined in this article, you can quickly reinstall Windows and get your computer running smoothly again. Remember to back up your data, create a Windows installation media, format your hard drive, and activate Windows using your license key. With these steps, you can enjoy a fast and stable computer running the latest version of Windows.