How to Change Your Name On Zoom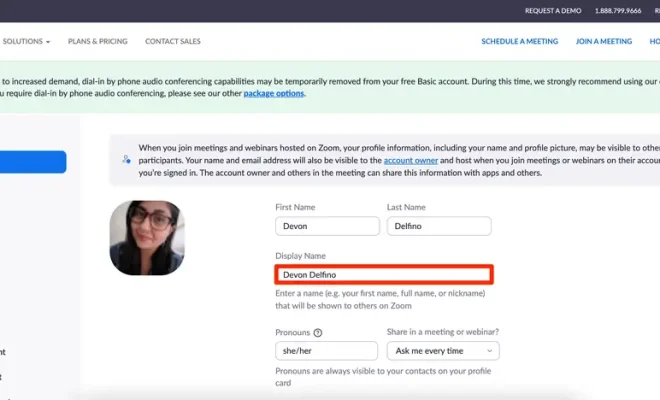 In the modern era of virtual communication, video conferencing has become one of the most effective ways to communicate with colleagues and peers worldwide. The widespread use of Zoom, particularly in the time of COVID-19, has led to many people using it for personal and professional use.
If you find that your name is incorrect or want to change it for privacy or personal reasons, don't worry. Changing your name on Zoom is easy and straightforward. Here is a step-by-step guide on how to change your name on Zoom successfully.
Step 1: Launch Your Zoom App
The first step is to launch the Zoom app on your device. Ensure that you have adequate internet connections before proceeding to step two.
Step 2: Log In
Log in to the Zoom application using your email address and password. You will then access your Zoom account dashboard.
Step 3: Click Your Profile Picture
Once on your Zoom account dashboard, click on your profile picture. It will take you to your profile settings.
Step 4: Edit Your Profile Settings
Click on the Edit button next to your name. This will prompt a dialog box to appear, where you can amend your name.
Step 5: Change Your Name
In the given field, enter your new name. It can be your full name or whatever name you want to appear on Zoom. You should ensure that the name is legible and professionally acceptable as it will appear during business meetings and video calls.
Step 6: Save Changes
Once you have entered your new name, click save changes. The new name will immediately update and reflect on your Zoom account.
Additional Tips
Suppose you have more than one name that you wish to use alternatively, for instance, your nickname or your maiden name. In that case, you can follow the same steps repeatedly and change your name before every meeting or call.
Conclusion
In summary, changing your name on Zoom is an easy and simple process that anyone can manage. Whether you want to use a professional name or a nickname, it is easy to update and reflect on your account. Therefore, if you desire to amend your name, go ahead and follow these outlined steps to change your name on Zoom.