Apple's Cool New Freeform Whiteboard App Already Has Stiff Competition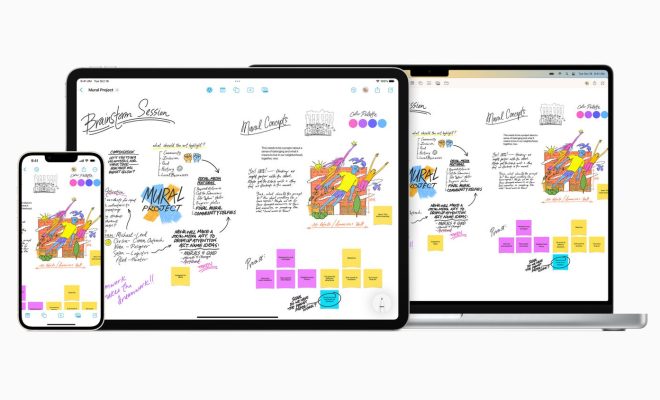 Apple recently released its new Freeform whiteboard app, which has been received with much excitement by users. The app is designed to offer an easy and intuitive way to brainstorm ideas, jot down notes, and present information in a visual way. With multiple features such as image and text insertion, shape tools, and a range of colors and fonts, Freeform is set to revolutionize the way we communicate and collaborate.
However, the competition in the world of digital whiteboards is fierce, and Apple's Freeform app faces strong competition from established players like Google's Jamboard, Microsoft's Whiteboard, and cloud-based platform Miro. Each platform offers unique features, pricing structures, and use cases that set them apart.
Google Jamboard, for instance, is a collaborative platform that empowers teams to visually collaborate and share ideas in real time. The app's standout feature is its integration with Google Drive, allowing users to easily access and share documents, slides, and spreadsheets. Microsoft's Whiteboard, on the other hand, provides teams with a central location to brainstorm, strategize and work together seamlessly in the familiar workspace of a whiteboard. It stands out with its auto shape and reminder features, making it easier for businesses to streamline their processes.
Miro, a web-based platform, allows users to access its platform from anywhere, which means that teams do not have to be in the same room or even in the same country to collaborate. The company has recently added the ability to import documents and presentations into its platform, making it an excellent option for users who need to create reports or share information visually.
While Apple may have some catching up to do in this market, the Freeform app's integration with the popular Apple ecosystem makes it an attractive option for Apple users. The app also has the advantage of being included in the company's iOS and macOS operating systems, providing easy accessibility to millions of users who already own Apple devices.
In conclusion, while Apple's Freeform app may have stiff competition from established players, it presents a new and user-friendly option in the digital whiteboard space. Its success will likely depend on Apple's ability to continue to add value through updates and new features and how it can compete in terms of pricing and access. Regardless, with the ever-increasing need for remote collaboration, the future of digital whiteboards looks bright.