What Is iMessage, and How Does It Differ From SMS?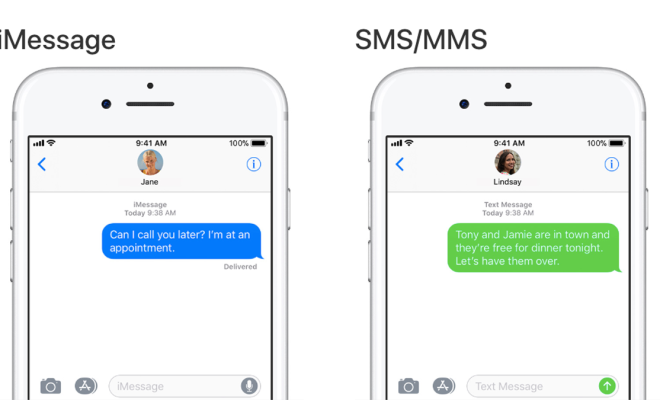 iMessage is Apple's proprietary messaging service that was introduced in 2011 with the release of iOS 5. The messaging service allows users to send text messages, photos, videos, and documents to other iOS and macOS users over their internet connection. In this article, we will explore what iMessage is and how it differs from SMS.
What is iMessage?
iMessage is a built-in messaging application found on Apple devices, including iPhone, iPad, iPod Touch, and Mac computers. iMessage uses a user's Apple ID to send messages over the internet instead of traditional cellular network infrastructures. This means that users can send messages to other iMessage users without incurring SMS fees.
When a user sends an iMessage to another iOS or macOS user, the message is encrypted and sent through Apple's servers to the recipient's device. This communication is secure as the message is encrypted end-to-end, so no one can intercept and read the content of the message besides the sender and recipient.
How does iMessage differ from SMS?
SMS (Short Message Service) is the traditional messaging service that we all know and use on our mobile devices. It uses the cellular network infrastructure to send messages to other users. Unlike iMessage, SMS messages are not encrypted, and they are limited to a maximum of 160 characters per message. Therefore, users have to split long messages into several parts to send them.
With iMessage, there are no character limits, and users can send long messages or multimedia content without breaking them up. Additionally, iMessage is free, and users are not charged additional fees for sending messages with iMessage. When the recipient's device receives an iMessage, it will show up in blue, while SMS messages show up in green.
iMessage also has other features that are not available on SMS, such as the ability to see when the recipient is typing a reply, read receipts that show when the message has been read, and the ability to send stickers and GIFs.
Conclusion
iMessage is a messaging service that allows users to communicate with other iOS and macOS users over the internet. It differs from SMS in that it's free, encrypted, and has no character limits. With iMessage, users can send longer messages, photos, videos, and documents without incurring SMS fees. Additionally, it has exclusive features like read receipts, typing indicators, and the ability to send stickers and GIFs.