Ways to Fix Volume Buttons Not Working on iPhone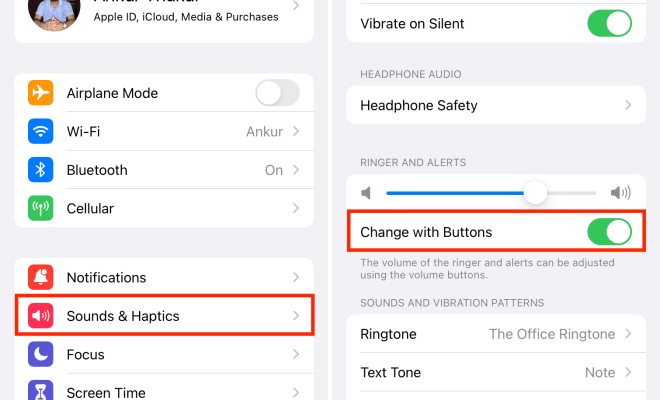 There is nothing more frustrating than having your iPhone volume buttons suddenly stop working. You may find yourself unable to turn up or down the volume of your favorite tunes, or worse, unable to take phone calls or listen to messages clearly. Fortunately, there are several quick and easy ways to fix this problem.
1. Check for debris and clean your buttons
Sometimes, dirt, dust, or debris can get caught in your volume buttons, causing them to stick or not function properly. To fix this, try gently cleaning around the buttons with a soft-bristled brush or a clean toothbrush. Be sure to do this gently, as too much pressure could cause the buttons to break.
2. Adjust your settings
If your buttons are only working intermittently, it may be an issue with your settings. Go to your iPhone's settings and look for "Sounds & Haptics." From there, you can adjust the "Change with Buttons" feature to ensure that your volume buttons are working as intended.
3. Restart your iPhone
Sometimes, restarting your iPhone can fix a variety of different issues. To do this, simply hold down the power button until the "slide to power off" message appears. Slide to turn off your iPhone, wait a few moments, then hold the power button down again to turn it back on.
4. Update your iPhone software
An outdated software version can also cause your volume buttons to not work as intended. Make sure your iPhone is running the latest software version by going to "Settings," then "General" and "Software Update." From there, you can download and install any available updates.
5. Restore your iPhone
If none of the above methods work, there may be an underlying issue with your iPhone's hardware. However, before taking your phone in for repairs, try restoring your iPhone. This will erase all data from your phone, so be sure to back up your data beforehand. To restore your iPhone, connect it to a computer and open iTunes. Select "Restore iPhone" and follow the prompts.
In conclusion, there are several ways to fix volume buttons not working on iPhone. Try checking for debris, adjusting your settings, restarting your iPhone, updating your software, and restoring your iPhone. With a bit of troubleshooting, you should be able to get your volume buttons working again in no time.