The Best Projectors Of 2022: 10 Projectors To Consider For School And Classroom Use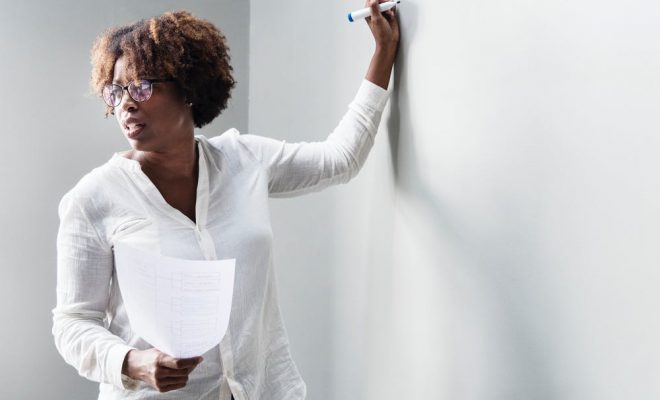 While advancements in modern technology have changed the way presentations are done in the classroom, the fact remains that a quality projector is a crucial tool for teachers and professors giving lectures or presentations in front of student and colleague audiences. Furthermore, projectors have evolved with the times to support a bevy of connected devices including laptops and desktop computers.
If you're in the market for a new projector for your classroom or office, you're in luck! We've scoured the entire marketplace to find the best of the best for our list of the 10 Best Projectors For 2022. If you need a state-of-the-art projector to take your presentations and lectures to the next level, these are the ones for you.
1) Epson EB-S04
A fantastically portable projector for an extremely fair price point, the Epson EB-S04 comes complete with a carry case and support for USB, VGA, HDMI, WiFi, and MHL connections. It also has an extremely strong lamp brightness at 3,000 lumens.
For smaller classroom and office presentations, the ViewSonic PA503S wealth of inputs and simple setup is a breath of fresh air. It's not quite a full HD projector but the quality of projection is still crystal clear and worth the price point. 
A perfect blend of tiny size and huge power, the Philips Pico PPX4010 can fit in your front pants pocket if you so choose. It's insane that such a small device blows the competition away with its ease of use and 100 lumens brightness. 
4) Epson EB-S41
If you need a larger projection radius out of a smaller projector, go with the Epson EB-S41. Its maximum projection size of 300 inches will ensure that everyone in your classroom or meeting room can see what's being projected. 
The image and sound crispness and clarity of the LG Minibeam PH550G is made all the more impressive by its compact size. This is portability done right and done with efficacy.
This is the brightest pocket projector we've ever tested with a 700 lumens lamp that works in all but the darkest of meeting rooms and classrooms. It also has a ton of different ports to choose from that makes it undeniably versatile for a pocket projector.
The ViewSonic PLED-W800 boasts easy portability and fantastic versatility with HDMI, SD, and USB slots available. With 800 lumens of brightness and a reliable VGA input for laptop connectivity, this projector has so much going for it. 
The Epson BrightLink 685 Wi's true calling card is its unbelievable interactivity quotient. Presenters can draw and write and have it projected onto the screen, and the ease of connectivity is made even more impressive by the projector's wireless capabilities. 
9) Epson EB-X11
There isn't a more versatile and multifaceted LCD projector you can find that also comes with the agreeable price point of the Epson EB-X11. With a solid brightness of 2600 lumens and neat features such as a lens cover that automatically turns off the speakers and lamp, this projector does it all.
10) Asus ZenBeam E1
The Asus ZenBeam E1's power of projection is belied by the projector's compact size and sharp design scheme. With the ability to project up to 120 inches in size and 5-hour battery life, this projector is fantastic for the educator or professional on the go.
Closing Thoughts
Each of the ten projectors above has its own special blend of features and projecting power that makes them fantastic investments for educators and professionals alike. You can't go wrong with any of these projectors when it comes to putting on a presentation show and keeping people captivated with what you have to say.