The 15 Best Deep Web Search Engines to Find What Google Can't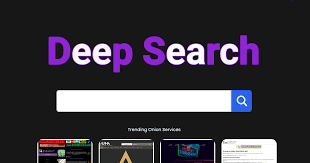 In the past couple of years, the use of the deep web has become increasingly popular for many reasons. One of these reasons is that it offers an increased level of anonymity and privacy compared to the surface web. The deep web is a vast collection of websites and information that are not easily accessible through search engines like Google. This is where deep web search engines come in handy. In this article, we'll explore the 15 best deep web search engines that can help you find what Google cannot.
1. Torch: Torch is one of the most used and popular deep web search engines in the market. Simply go to the Torch homepage and search for the information you need.
2. Grams: Grams is another popular search engine that is used for the search of all sorts of illegal and legal products on the dark web.
3. DuckDuckGo: Unlike other popular search engines that use tracking cookies and collect user's data, DuckDuckGo strives to provide private and anonymous searching.
4. Ahmia: Ahmia is another great deep web search engine to find .onion websites, which is the domain of the hidden web.
5. Not Evil: Not Evil is a popular search engine on the dark web. It has been around for some time and has managed to be stable and reliable when it comes to providing search results.
6. Deep Web Technologies: Deep Web Technologies is an engine designed specifically to find scientific, technical, or medical research results.
7. Freenet: Freenet is an open-source, peer-to-peer deep web network that allows users to share files, browse websites, and more.
8. OnionSpider: OnionSpider is a great tool to use for discovering new .onion websites, but also has a built-in search option.
9. Candle: Candle is one of the longest-running onion web search engines, offering an advanced and comprehensive search that sifts through every possible .onion link.
10. Mycroft Project: Mycroft Project is like an "open source" search engine. It is a community-focused project that comes with a lot of add-ons and plug-ins for several popular internet browsers.
11. The WWW Virtual Library: The WWW Virtual Library is an impressive way to access web resources of different subjects. It is organized into different categories, which makes it easy to find the relevant websites in your field of interest.
12. DeepWebTech: Similar to Deep Web Technologies, DeepWebTech is another engine with a focus on providing users with research-related sources.
13. The Internet Archive: The Internet Archive is an excellent resource that offers access to historical records and a time-machine option that allows you to browse websites from years past.
14. Deep Web Radio: Not really a search engine, Deep Web Radio offers users access to different radio stations from all over the globe.
15. Peekier: Peekier is another alternative search engine that could prove useful when trying to browse with either privacy or speed.
In conclusion, these 15 deep web search engines could provide you with a lot of what you're looking for that Google simply cannot. When browsing the deep web, it's important to take extra precautions to ensure your anonymity, privacy, and safety. Always use an anonymous VPN and Tor when accessing the deep web, and remember to use common sense when navigating unknown terrains.