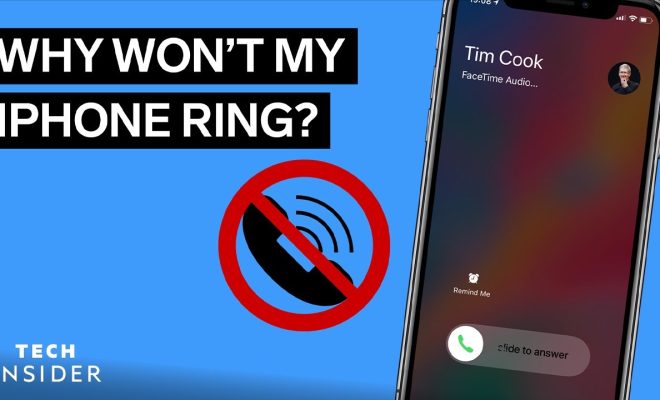 If you own an iPhone but it won't ring, you may be missing important calls or messages. There could be several reasons why your iPhone is not ringing, and some solutions may be simple. In this article, we will discuss some common reasons why your iPhone may not be ringing and how to fix the issue.
1. Check your mute switch:
One of the primary reasons why your iPhone won't ring is that the mute button, located on the side of the device, is switched on. To check this, simply flip the mute switch off to restore normal sound functions.
2. Check your sound settings:
Another reason your iPhone may not be ringing is that the sound settings may have been changed. To adjust this, go to Settings> Sounds & Haptics, and make sure the volume is turned up. Here, you can also check if the ringer and alerts are properly enabled.
3. Check if "Do Not Disturb" mode is turned on:
If you have "Do Not Disturb" mode enabled, your iPhone won't ring during your selected hours. To turn it off, go to settings> Do Not Disturb, and toggle the switch off.
4. Check if your iPhone is in Silent mode:
You can check if your iPhone is in silent mode by checking the status bar. If there is a moon icon present, then it is in Silent mode. To turn off Silent mode, swipe down from the upper right corner of your screen to access the Control Center, and tap the moon icon.
5. Check for software updates:
If your iPhone is not updated to the latest software version, it may have some bugs that prevent it from ringing. To update your device, go to Settings> General> Software Update and download the latest software available.
6. Check your carrier settings:
Your iPhone may not be ringing because of your carrier settings. To check this, go to Settings> General> About and wait for your carrier settings to be updated. If there is an update available, a prompt will appear, asking you to update.
If none of the above steps solve the issue, it may be time to take your iPhone to the Apple Store. They will be able to diagnose and fix the issue for you. In conclusion, there are several reasons why an iPhone may not ring. From software issues to physical mute buttons, there are various factors that contribute to the problem. However, most of these problems can be quickly resolved by checking and adjusting the settings on your device. If none of these troubleshooting steps work be sure to make an appointment at your nearest Apple Store so that an expert can address the problem.