Maximize Your Productivity: Easy DIY Computer Monitor Stands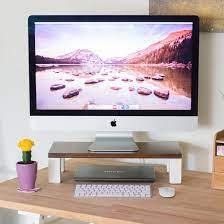 As remote work continues to dominate, many of us are finding ourselves spending extended periods of time sitting at a desk. While sitting for long periods of time can be damaging to your health, using a computer monitor stand can help reduce the strain on your neck and eyes, while also improving your productivity.
While there are many different types of monitor stands available on the market, they can be pricey and often not cater to personal preferences. Luckily, creating your own DIY monitor stand is not only easy, but it can be personalized to fit your workspace perfectly.
Here are a few DIY computer monitor stand ideas to help maximize your productivity:
1. Stackable shelf
One of the easiest and most affordable DIY monitor stands is stacking up hallow shelves. Find a set of tall, narrow shelves that can be stacked on top of one another to create a customized monitor stand that fits your needs. This option is great because it adds additional storage space to your desk and allows for a compact design. Just be sure to measure your monitor and the height you need the stand to be before purchasing the shelves.
2. Wooden box stand
Another DIY monitor stand idea is creating a box stand out of wood or metal. This option offers more stability and is perfect for those who prefer a more industrial look. You can purchase metal boxes or wooden crates that can be easily glued together to create an elevated base for your desktop monitor.
3. Brick and wood stand

If you're looking for a rustic and affordable option, a brick and wood stand may be a great choice. This involves stacking bricks on top of each other with a plank of wood placed on top to create a raised platform. Just be sure to measure your monitor and the height you need the stand to be before purchasing the bricks and wood.
4. Keyboard drawer
If you're short on desk space, a keyboard drawer with an adjustable monitor stand built-in may be a perfect solution for you. Simply install the keyboard drawer under your desk, then adjust the height of the monitor stand as needed. This option is great because it keeps the desk surface free of clutter, and the adjustable height allows for a more comfortable viewing angle.
In conclusion, creating your own DIY computer monitor stand is an easy and low-cost way to improve your productivity while working from home. Each of the above ideas can be customized to fit your needs and requirements perfectly. Plus, the added benefit of a comfortable workstation will help you stay focused and productive throughout the day.