IMAP vs. POP3: What's the Difference? Which One Should You Use?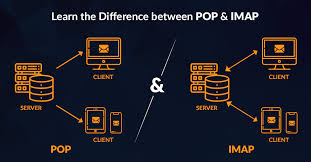 When it comes to accessing email on a computer or mobile device, you have two main protocols to choose from: IMAP and POP3. Both are widely used, but they have different features and benefits that may make one more appealing than the other depending on your needs.
IMAP (Internet Message Access Protocol) and POP3 (Post Office Protocol version 3) are both used by email clients to retrieve messages from an email server. However, the way they work is quite different.
IMAP keeps all your email on a server, while POP3 downloads it to your local device. This means that with IMAP, you have access to all your email from any device, as long as you log in to your account. POP3, on the other hand, downloads email and deletes it from the server, which means that once it's downloaded to your device, you can only access it from that device.
Another key difference between IMAP and POP3 is how they handle deleted messages. With IMAP, when you delete an email, it's removed from the server and all devices that have access to the account. With POP3, deleting an email from your local device doesn't delete it from the server or other devices. This can lead to cluttered inboxes and confusion about what's been read or not.
One advantage of POP3 is that it can work offline, allowing you to access previously downloaded emails without an internet connection. IMAP requires an internet connection to access email, but it's more efficient and better suited to handling large amounts of email.
Which protocol should you choose? Ultimately, it depends on your needs. If you access email from multiple devices and want to keep all your messages in one place, IMAP is the way to go. If you only use one device and want to be able to access your email offline, POP3 may be better suited to your needs.
In general, if you're not sure which protocol to choose, most modern email clients will default to IMAP. But if you're using an older device or email client, you may need to manually configure POP3 settings.