How to Use Your Roku Without a Remote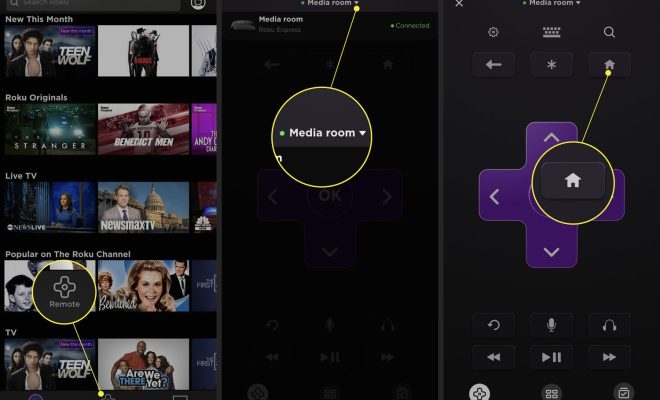 As a Roku user, dealing with a lost or broken remote can be a frustrating experience. However, you don't have to miss out on streaming your favorite content just because of a missing remote. In this article, we will explore how to use your Roku without a remote.
1. Download the Roku App
The Roku mobile app is the ideal substitute for a remote. With the app, you can get access to all the features of your Roku device, including playback control and search. To use this feature, download the app on your smartphone or tablet, connect your device to the same Wi-Fi network as your Roku, and launch the app.
Once connected, select the remote icon located at the bottom of the screen, and you're ready to go. You'll be able to control your Roku just like you would with the physical remote.
2. Use a Universal Remote
A universal remote is another option for controlling your Roku TV without an original remote. You can get a compatible universal remote by searching online for Roku-compatible remote models. Once you have them, follow the directions from the manufacturer to pair your universal remote with your Roku TV.
This is a great method for those who prefer not to use their smartphone or tablet, as it is a one-time investment that will allow you to use your Roku TV like any other TV with a remote.
3. Use the Buttons on Your TV
Most Roku TVs have physical buttons located on the side or bottom of the display. These buttons allow you to control some of the basic features of your Roku TV, including powering it on or off, adjusting the volume, and changing channels.
If you find yourself without a remote, using the physical buttons on your TV is a reliable way to gain control of your Roku TV. However, this method can be time-consuming and inconvenient when browsing through apps or channels.
4. Use HDMI-CEC
HDMI-CEC (Consumer Electronics Control) is a feature built into most modern TVs and streaming devices, including Roku TVs. It allows devices to communicate with each other through the HDMI cable, which can power on and adjust the settings of compatible devices automatically.
To enable HDMI-CEC, locate the setting in your Roku TV menu under "System" and enable it. Once activated, you can use your TV remote to control your connected Roku TV device, including the playback control and search functions.
In conclusion, losing your Roku remote can be a frustrating experience, but there are ways to control your streaming device without it. Whether you are using the Roku mobile app, a universal remote, physical buttons on your TV, or enabling HDMI-CEC, there is a method that can work for you. Follow these tips to continue streaming your favorite content without the need for a physical remote.