How to Use Google Classroom to Create the Perfect Digital Learning Environment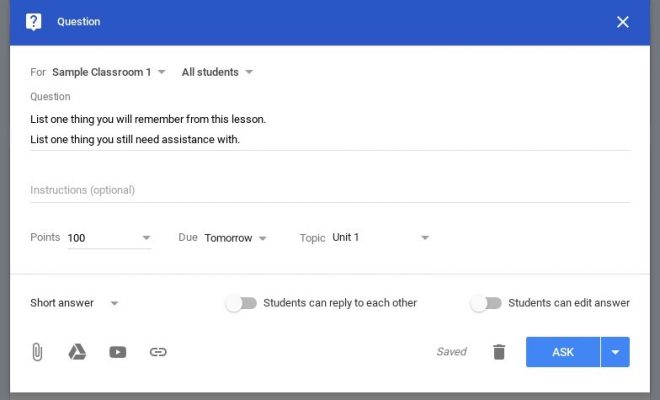 A digital learning environment should provide equal access, foster collaboration and communication, and promote critical thinking and creativity. It should also present opportunities for differentiation in order to meet the needs of all students, encourage active learning, and increase student engagement. In addition, digital learning environments must allow teachers and students to evaluate learning and provide feedback. Google Classroom provides teachers with tools to do each of these and more.
Collaboration and Communication
Google Classroom contains built-in communication and collaboration tools which enable teachers to communicate with students at any time. Teachers and students can send and receive emails using the integrated Gmail application in Classroom. Communication is also available through posting to the Stream, sending private comments on assignments, and providing comments on student work in the grading tool.
There are multiple ways for students to collaborate within Google Classroom. Online discussions via the Stream enable students to carry open conversations with peers and the teacher. Students can also collaborate on group assignments created by the teacher through shared documents.
Active Learning and Engagement
Active learning and engagement are critical components of any digital learning environment. Although most students are comfortable with technology, the teacher must make it a priority to use strategies which will increase student ownership in learning. Classroom offers several ways to make learning interactive in order to increase engagement. Within Classroom, teachers have the ability to include links, videos, interactive games, and collaborative assignments within lessons and assignments. There are hundreds of apps and extensions which integrate with Google Classroom, literally making the possibilities for increasing engagement limitless. With the Share to Classroom extension for Google Chrome, nearly all websites can now be shared to Google Classroom.
Differentiation
Google Classroom makes differentiation of lessons and assignments a breeze. Teachers can assign lessons to the whole class, individual students, or groups of students on the Classwork tab in Classroom. Assigning work to individual students in a regular classroom setting is often time-consuming and extremely difficult, but Google Classroom removes the difficulty level. Teachers simply have to create a new assignment, choose the checkbox next to the student(s) who are to receive the assignment, and repeat the process as needed for other individuals or groups of students.
Teachers are also able to provide accommodations for English Language Learners within Classroom. The Google Translate extension for Classroom allows students to translate an entire webpage or document. There is also a Translate feature embedded in Google Docs in the Tools menu.
Assessment and Feedback
Assessing student learning and providing feedback can be done in a number of ways through Google Classroom. Teachers can create a Google Form to use as a quiz or as a check for understanding. These are automatically graded, and the results are saved to Classroom. Results can also be exported to Sheets for data analysis. Teachers can also use the question feature when creating an assignment to create an exit ticket or ask thought-provoking questions during class. The Classroom grading tool provides another method for assessing student work, making comments, and submitting graded assignments with feedback to students.