How to Turn Off Autocorrect on Your iPhone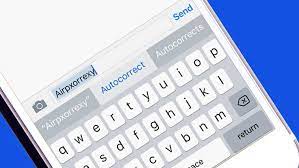 Autocorrect can be both a blessing and a curse on your iPhone. It's an intelligent feature that corrects typos and misspellings, but it can also lead to frustrating and embarrassing situations. If you want to turn off autocorrect on your iPhone, you've come to the right place. In this article, we'll show you how to do it step-by-step.
Step 1: Go to Settings
First, you need to go to the Settings app on your iPhone. You can find it on the home screen. It looks like a gear or a wheel icon.
Step 2: Find the Keyboard option
Once you are in the settings app, scroll down until you find the "General" option and tap on it. Then tap on "Keyboard."
Step 3: Turn off autocorrect
Once you are in the keyboard settings, you can turn off autocorrect by moving the toggle button to the left. This will disable the autocorrect feature. You can also turn off other keyboard options such as "Predictive text" and "Auto-capitalization" here if you wish.
Step 4: Restart your iPhone
After you have turned off autocorrect, it is a good idea to restart your iPhone to ensure that the changes take effect. To do this, press and hold the power button until the "slide to power off" slider appears. Then slide it to the right to turn off your iPhone. Once your iPhone is off, press and hold the power button again to turn it back on.
Congratulations! You have now turned off autocorrect on your iPhone.
Some things to keep in mind
While turning off autocorrect can be a relief to those who are frustrated with the feature, it is important to remember that it can lead to more typos and misspellings. If you're not confident in your typing skills, you might want to leave autocorrect on. Additionally, the autocorrect feature on your iPhone can learn from your typing habits and become more accurate over time. If you turn off autocorrect, it won't have the opportunity to learn and improve.