How Can Educators Utilize Google Classroom?
Because it is a fairly flexible app, educators utilize their features in a lot of different ways. With Google Classroom, educators can:
Streamline how they manage classes. The app integrates with Google's other apps like Docs, Drive, and Calendar so there are lots of built-in "shortcuts" for classroom-management tasks. For instance, if you post an assignment with a due date, it is automatically added to the class calendar for your learners to see. Also, everything you create on Google Classroom is saved onto a Drive folder. Your assignments, any digital materials you uploaded, and completed student work will all be in one easy to find location. You can also create a new Google Doc, Sheet, Form, Slide, or Drawing by clicking "Create". You can upload it to your Classroom once you are done. Or you have the option to upload an existing file from your computer or Drive when creating assignments for your students.
You can digitally organize, distribute, and collect assignments, course materials, and learner work. Educators can also post an assignment to several classes at once or modify and reuse assignments from year to year. If your learners have access to technology devices, Google can help you create a paperless classroom, and finally, have a chance to enjoy your free time. No more wasted time making copies in the copy room, dealing with a line of people, or a malfunctioning copy machine. With one click you have everything you need, and the learning material will be much more engaging for students as opposed to a boring worksheet.
Communicate with learners about their classwork. You can utilize the app to post important announcements and reminders about assignments, and it is obvious to see who has or has not finished their assignment. You can also check in with individual learners privately, answer their questions, and offer support. Effective teaching requires frequent communication between educators and learners. Luckily, Google Classroom provides a platform with many opportunities for regular communication and feedback.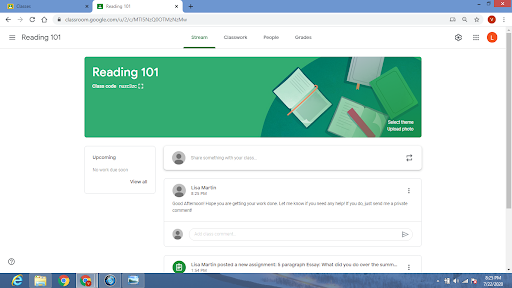 Give learners timely feedback on their assignments and assessments. Within Google Classroom, it is possible to utilize Google Forms to develop and share quizzes that are automatically graded as learners turn them in. You will not only spend less time grading, but your learners will get instant feedback on their work. You can use the private comment feature to explain errors or give praise.