Easy Ways to Check PC Health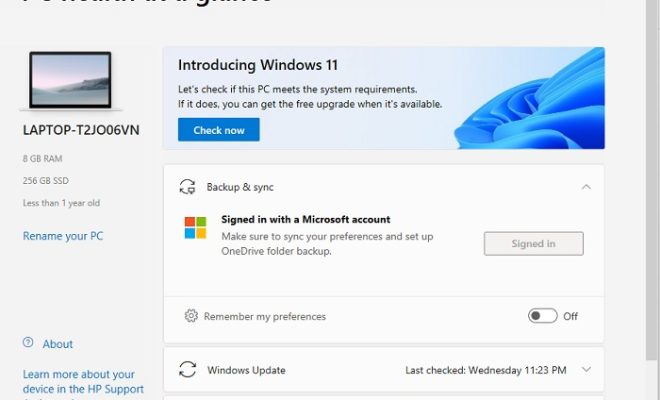 As we rely more and more on technology, it's essential to keep our computers in good working order. After all, a malfunctioning PC can lead to lost work, frustration, and even lost income. Fortunately, monitoring your PC health is relatively easy, and you don't have to be a tech expert to do it. Here are some easy ways to check your PC's health.
1. Check Your Hard Drive's Health
Your hard drive is one of the most critical components of your PC, and when it fails, it can be catastrophic. But how do you know if your hard drive is healthy? Luckily, there are plenty of free tools that can help. For example, CrystalDiskInfo is a free utility that monitors your hard drive's health and alerts you if there are any problems.
2. Update Your Operating System and Software
Keeping your operating system and software up to date is essential for security and performance. Windows and macOS offer automatic updates by default, but it's always a good idea to check periodically to make sure everything is up to date. Many third-party software also check for updates automatically, but you may need to do it manually for some applications.
3. Run Antivirus Software
Antivirus software is a must-have for any PC user. Not only can it prevent viruses and malware from infecting your computer, but it can also alert you to potential threats. Windows and macOS both have built-in antivirus software, but you may prefer to use a third-party solution such as Norton, Kaspersky, or Avast. Just remember to keep your antivirus software up to date and run regular scans.
4. Check Your Computer's Temperature
Overheating can cause significant problems for your PC, including crashes and hardware failures. Checking your computer's temperature is an essential part of PC maintenance. There are several free tools available to help you monitor your computer's temperature. For example, Core Temp is a free utility that shows your CPU temperature in real-time.
5. Run Disk Cleanup and Defragmentation
Storage space can fill up fast, especially if you have a lot of files and programs installed on your PC. Running disk cleanup and defragmentation tools can help free up space on your hard drive and improve PC performance. Windows has built-in tools for both tasks, but you may prefer to use third-party utilities such as CCleaner or Defraggler. By using some or all of these tips, you can keep your PC running smoothly and catch any issues before they become serious problems. Remember, the key to maintaining PC health is consistency – make it a habit to check your computer's health regularly, and you'll be good to go.