Which Streaming Device Should You Buy?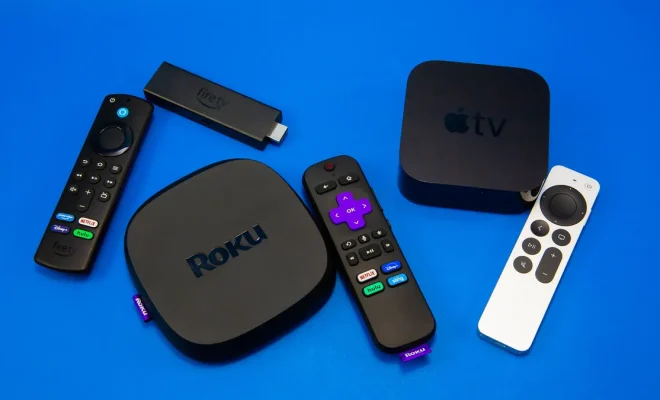 In today's world of digital media consumption, streaming devices have become an essential part of our lives. From watching movies and TV shows to playing games and music, there are several options that cater to different preferences and budgets. However, with the market being flooded with various devices, it can be challenging to decide which one to choose.
In this article, we will evaluate the top streaming devices and help you decide which one to buy.
1. Roku Streaming Stick+
The Roku Streaming Stick+ is an excellent choice for those who are looking for a budget-friendly option. The device can stream up to 4K Ultra HD and HDR content, giving you a vivid and clear viewing experience. It also comes with a voice remote that lets you control the device with your voice commands. Additionally, it supports Alexa and Google Assistant, making it easy to integrate with other smart home devices. However, Roku's main drawback is that it has a limited selection of apps than its competitors.
2. Amazon Fire TV Stick 4K
The Amazon Fire TV Stick 4K is an affordable option that offers excellent 4K HDR video and audio quality. It also comes with Alexa voice support, and you can use voice commands to control the device and other smart home devices. One of its unique features is its built-in Alexa remote that lets you browse and launch content with your voice commands. However, the Fire TV Stick is locked into Amazon's ecosystem, so if you are using other streaming services, it can be a bit inconvenient.
3. Google Chromecast Ultra
The Chromecast Ultra is an excellent option for those who have a Google ecosystem. The device supports 4K Ultra HD and HDR content, and you can control it with the Google Home app. It also has a unique feature called Ambient Mode, where you can set up pictures on your TV when it is not in use. The downside is that you need a smartphone or tablet to stream content to your TV, which can be a nuisance for some users.
4. Apple TV 4K
The Apple TV 4K is an exceptional streaming device that supports 4K HDR and Dolby Atmos audio. You can use Siri to control the device, and it also supports the Apple TV app, making it easy to access TV shows and movies. Additionally, it integrates with other Apple devices, allowing you to stream content seamlessly. However, it is one of the most expensive streaming devices, and its remote can be challenging to use.