Do Digital Tools Improve Reading Outcomes?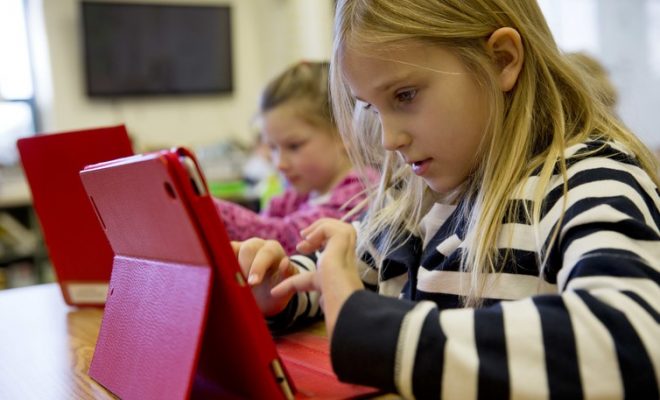 With the recent advancement of technology, it changes the tools children use to learn. When it comes to reading, there are many different apps and programs that can be used to keep children engaged and help them practice reading skills. Technology used as a tool for reading instruction can supplement the skills being taught, engage students more, and allows them to take charge of their own learning.
To understand how technology can be helpful to children learning to read, it must be understood that there are different types of learners and various factors that affect learning. Some of these factors are the environment in which they have learned and continue to read, socio-economic family status, and whether or not there are learning disabilities involved. Technology may be of benefit to support these types of learners, especially.
What does the research say?
According to research mentioned in Technology Tools to Support Reading in the Digital Age, technology can be a tool used in different ways for different types of learners. For readers who struggle or are disabled, there are features that can help them access texts that they may not normally be able to in print. By using text-to-speech, a struggling reader or disabled learner can hear a story read aloud to them.
In the same article, it is also mentioned that technology can support struggling or strategic readers by helping them to build vocabulary and background knowledge that will allow them to further their reading skills. In addition, it has been found that technology can also help children who come from low income families learn to read. For them, it may be more difficult to obtain devices that can help them learn to read, but once they have the devices, it can be beneficial.
When it comes to using technology for reading, teachers and administrators can use it in a variety of ways. Being able to explore different types of articles and content online allows for students to find reading materials they will be excited to read about. Students are usually more engaged when using digital devices, so may be more willing to read or interact with texts on tablets, computers, and iPads.
By implementing technology in a way that improves reading outcomes, students can rise to the challenge and meet or exceed grade-level standards. According to research completed at Stanford University, technology should be used appropriately both inside the classroom and at home to see these outcomes for students. In addition, technology for reading should be used in conjunction with teacher-led lessons, which is one of the three factors involved in ensuring technology is used properly. The other two are implementing learning tasks and activities that are interactive and allowing students to explore, rather than using the "drill and kill" technique.
Technology is a great tool for learning to read, but should not take the place of regular instruction.  While there are many pros and cons when it comes to using technology for reading instruction, it is important to ensure that the technology is being used in a way that supports student learning but shouldn't replace authentic teacher-led instruction. Before using technology in reading, make sure you fully understand the stages of reading development.