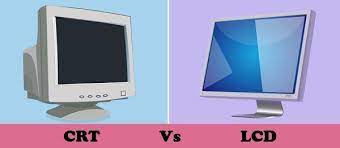 In the world of computer monitors, two types of displays dominate the market: CRT and LCD monitors. Both have their advantages and disadvantages, and it's essential to understand the differences before choosing one for your setup.
CRT monitors have been in use since the early days of computing, and they operate using cathode ray tubes to create images on the screen. They are known for their deep blacks, vibrant colors, and relatively high refresh rates, which makes them well-suited for gaming, design, video editing, and other visual-intensive applications. Compared to LCD monitors, CRT monitors are generally cheaper, making them an attractive option for those on a budget.
On the other hand, LCD (liquid crystal display) monitors use thin-film transistor (TFT) technology to produce images on the screen, making them much thinner and lighter than CRT monitors. They are known for their sharp and clear images, low power consumption, and small physical footprint, which makes them ideal for office and general computing use. LCD monitors are generally more expensive than CRT monitors but offer users a better long-term investment due to their longer lifespan and lower maintenance costs.
One essential factor that sets CRT and LCD monitors apart is their display resolution. CRT monitors usually have a fixed resolution and do not support multiple resolutions natively, whereas LCD monitors can support a range of resolutions, including Full HD and 4K. Additionally, CRT monitors can display flickering images, which can cause eye strain, while LCD monitors do not have this issue.
Another significant difference between CRT and LCD monitors is their energy efficiency. CRT monitors consume significantly more power than LCD monitors due to the way they operate. CRT monitors draw more power continuously from the electrical outlet, while LCD monitors only draw power when the backlight is on.
In terms of longevity, LCD monitors have a longer lifespan than CRT monitors, which can last for up to ten years with proper maintenance. LCD monitors require less maintenance than CRT monitors since they do not have any image-burn-in issues, and their screens do not flicker, which can contribute to a longer lifespan.
In conclusion, when it comes to choosing between CRT and LCD monitors, it ultimately depends on personal preference and intended use. If you're a gamer, designer, or video editor, CRT monitors offer superior color accuracy and image quality. However, if you're looking for an all-purpose monitor for general computing and office use, LCD monitors offer a crisp and clear display with lower power consumption and longer lifespan. Regardless of your choice, both CRT and LCD monitors have their pros and cons, and it's up to you to decide which one best meets your needs.