Common Video Gaming Terms, Words, and Lingo to Know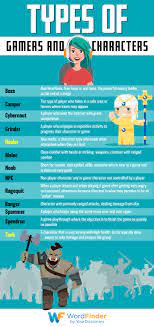 Video games have been a popular pastime for people of all ages for decades. From classic games such as Pac-Man to modern games like Fortnite, the video game industry has evolved significantly over the years. Along with the evolution of video games, the terminology used to describe them has also evolved. Here are some common video gaming terms, words, and lingo that every gamer should know.
1. FPS – FPS stands for First-Person Shooter. It is a genre of video game where the gameplay is seen from the player's perspective. Examples of FPS games include Call of Duty, Battlefield, and Doom.
2. MMO – MMO stands for Massively Multiplayer Online. It refers to a game where thousands of players can play in the same virtual world online, all at the same time. Examples of MMO games include World of Warcraft and Final Fantasy XIV.
3. Battle Royale – Battle Royale is a game mode where players fight until only one survivor is left. It became popular due to games like Fortnite and PlayerUnknown's Battlegrounds.
4. DLC – DLC stands for Downloadable Content. It refers to additional content that can be downloaded and added to a game, such as new levels, characters, or weapons.
5. Quest – A quest is a task given to a player by an NPC (non-playable character) that needs to be completed in order to progress in the game.
6. PVP – PVP stands for Player versus Player. In this mode, players compete against each other, rather than against the computer.
7. RPG – RPG stands for Role-Playing Game. It is a genre that allows the player to assume the role of a character in a fictional world. Examples of RPG games include The Elder Scrolls series, Final Fantasy, and Dragon Quest.
8. Level up – Level up refers to the process of a character gaining a higher level, which typically involves gaining experience points by completing quests or defeating enemies.
9. Save point – A save point is a location in the game where progress can be saved. It allows players to continue playing the game from the saved point if they need to pause or stop playing.
10. Open-world – Open-world refers to a game that allows players to explore a vast environment freely, without being restricted to a linear path. Examples of open-world games include Grand Theft Auto, Assassin's Creed, and The Legend of Zelda.