Chrome Not Saving Your Passwords? Here Are Some Quick Fixes to Try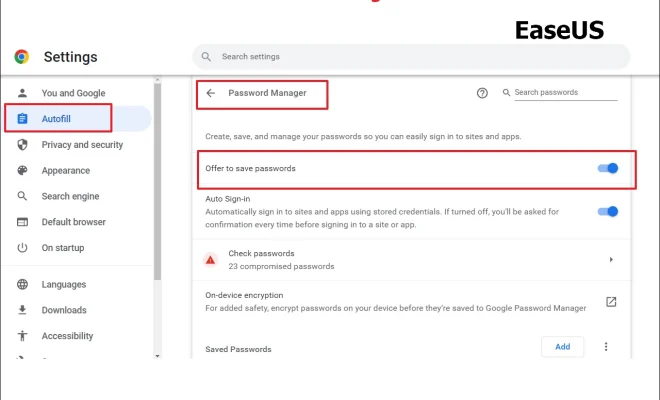 As a regular user of the internet, you are tasked with the challenging job of remembering multiple passwords for different websites. Fortunately, Google's Chrome browser offers a convenient password manager that stores and autofills your login credentials for various websites. However, it can be extremely frustrating when Chrome fails to save your passwords, forcing you to manually enter them each time you visit a particular site. In this article, we highlight some common reasons why Chrome may not be saving your passwords and provide solutions to fix the issue.
Quick Fixes to Chrome Not Saving Passwords:
1. Check your Chrome settings: First, ensure that you have enabled the "Offer to save passwords" option in your Chrome settings. To do this, click on the three-dot menu icon on the top right corner of your Chrome window, select "Settings," then "Autofill," and ensure that "Passwords" is turned on.
2. Clear your cache and cookies: If the issue is caused by a corrupt cache or cookie, clearing them may resolve the problem. To do this, click on the three-dot menu icon, select "More Tools," then "Clear browsing data." From here, select the time range of data you wish to delete and ensure that the "Cookies and other site data" and "Cached images and files" options are selected.
3. Update Chrome: If you are using an outdated version of Chrome, you may encounter issues with password saving. Ensure that you have the latest version installed by clicking on the three-dot menu icon, selecting "Help," then "About Google Chrome." Chrome will automatically check for updates and install them if available.
4. Disable extensions: Certain Chrome extensions may conflict with the password saving feature, causing it to malfunction. Try disabling all extensions temporarily and see if the issue is resolved.
5. Check your antivirus software: Antivirus programs and firewalls may also prevent Chrome from saving passwords. Check your antivirus software settings and ensure that it is not interfering with Chrome's password saving feature.
6. Start fresh: If none of the above solutions work, you can try resetting Chrome to its default settings. This will erase all your browsing data, including passwords, so make sure you have a backup before doing this. To reset Chrome, click on the three-dot menu icon, select "Settings," then scroll down and click on "Advanced." From here, select "Reset and clean up," then "Reset settings to their original defaults."