Broadband vs. High Speed Internet Connection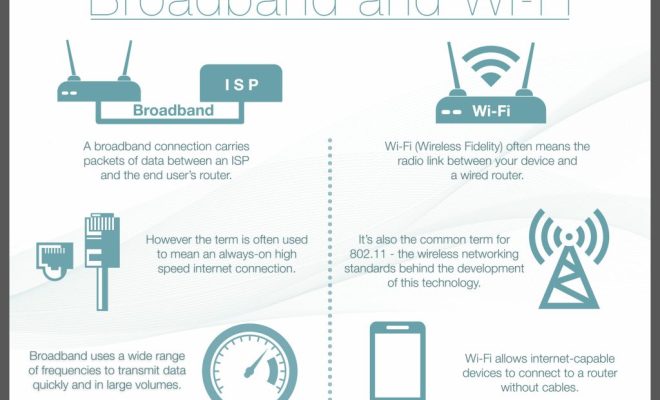 As technology continues to evolve and advance, internet connectivity has become an essential part of our lives. The internet has transformed the way we work, communicate and consume media. However, choosing the right type of internet connection can be daunting with its many options, including broadband and high-speed internet connection.
Broadband is a type of internet connection that delivers high-speed internet access to homes and businesses. It is a wired connection that is typically transmitted via cable, digital subscriber line (DSL) or fiber optic cables. Broadband connections enable users to access high-bandwidth multimedia content and download/upload information at a faster rate than dial-up connections.
On the other hand, high-speed internet connection refers to any internet service that offers speeds that are faster than typically expected. Unlike broadband, high-speed internet connections can be either wired or wireless. Typical examples include DSL, cable, satellite, and fiber-optic connections.
While both types of internet connection offer quick connectivity, there are a few differences between them. Let's delve deeper into these differences.
Speed
One of the most significant differences between broadband and high-speed internet connection is speed. Broadband connection is confined within a specific speed range, which is why its speed is defined. While high-speed internet connection is not defined by a specific speed range, its speed is usually faster than broadband. For instance, fiber-optic and satellite cables offer much faster speeds than broadband connections.
Connectivity
Broadband offers a wired connection to the internet while high-speed internet connection can be either wired or wireless. Wireless connections are more convenient as they allow users more flexibility regarding where and how they want to work, and connectivity has not to be limited to a specific spot. Additionally, with a wireless connection, users do not have to worry about tangled wires and messy setups.
Reliability
Since broadband offers a wired connection, it is generally considered to be more reliable than high-speed internet connections. Wired connections are less susceptible to interference and offer a more stable connection. For wireless connections, the speed can be affected by external factors such as weather conditions and distance.
Availability
Broadband is widely available throughout the US in most urban areas, while high-speed internet connections are more commonly found in rural areas. Satellite internet is an excellent example of high-speed internet connectivity that can provide service in areas where wired connections may not be feasible.

Conclusion
In summary, both broadband and high-speed internet connections offer fast internet connectivity to their users. However, there are different factors that distinguish one from the other, including speed, connectivity, reliability, and availability. Therefore, when deciding on which internet connection to use, it is essential to pay attention to these differences and choose the one that meets your needs.