Best UPS Battery Backups of 2023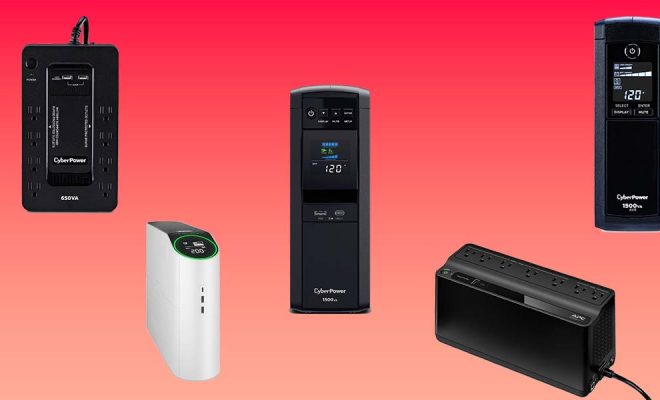 As technology continues to advance, it becomes apparent that almost every part of our lives is somehow connected to electricity. From gaming, business operations, education, entertainment, and other crucial aspects of our day-to-day activities, power outages can cause significant inconveniences.
As such, Uninterruptible Power Supply (UPS) Battery Backups have become an essential component of almost every home and office setup. In 2023, the market is expected to be flooded with upgraded UPS choices, boasting of high efficiency, battery longevity, and user-friendly designs.
Here are the best UPS Battery Backups of 2023:
1. CyberPower CP1500PFCLCD PFC Sinewave UPS
The CyberPower CP1500PFCLCD PFC Sinewave UPS, with a power capacity of 900 watts, comes in at the top of our list. Highly efficient and reliable, this UPS guarantees top-class battery backup with minimal drawbacks from attached devices. It boasts an attractive design, including an LCD display that offers information about the device's status, battery capacity, and runtime hours.
2. APC Back-UPS Pro 1500VA
APC is a well-known brand when it comes to UPS Battery Backups, and its Back-UPS Pro 1500VA model is an excellent example of just how much of a leader they are. With a capacity of 1500VA or 865 watts, this UPS can power up to ten devices for an extended duration of time. It comes equipped with phone and coaxial cable jacks to protect your devices from surges or spikes.
3. Tripp Lite SMART1500LCDT
The Tripp Lite SMART1500LCDT is another high-capacity battery backup that can support up to 900 watts of power. It comes with both USB and serial ports that allow you to connect your devices and receive constant battery status updates. It also has an integrated LCD display that provides information on battery capacity, load, and device status.
4. AmazonBasics Standby UPS 800VA
If you're looking for an affordable option without sacrificing functionality, the AmazonBasics Standby UPS 800VA could be the ideal solution. This UPS supports up to 450 watts of power and has four outlets, which provide ample backup for home appliances or low-powered devices like PCs and gaming consoles. It is compact and easy to set up, making it an ideal option for newbies.
5. Eaton 5P1500RT
The Eaton 5P1500RT is a commercial UPS that supports up to 1350 watts of power. This UPS is designed with top-notch features like scalable battery runtime, increased efficiency, and a built-in energy meter that helps you monitor energy consumption. It also comes with a hot-swappable battery for maintenance and backup purposes.
Conclusion
Power outages can cause significant inconveniences, but with the right UPS Battery Backup, you can reduce the impact of such disruptions. The selection of a suitable UPS battery backup depends on your needs, and these five options offer a broad range of capacities, functional features, and price ranges. Consider your power requirements, the number of outlets required, and any other additional features you may need before purchasing a UPS battery backup.