Best Party-planning Apps For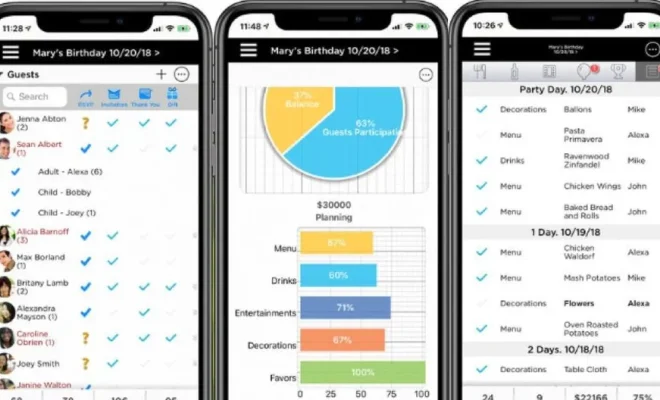 As the world constantly moves towards digitalization, party planning has been made easier than ever before with the help of party-planning apps. With an abundance of choices available, it can be difficult to choose which app is best suited for your needs. Here's a list of the top party-planning apps for ultimate convenience and stress-free party planning.
1. Evite
Evite is the ultimate "go-to" app for any party-thrower. This app allows you to create email invitations for any party – whether it be birthdays, baby showers or even weddings. With various features, such as tracking RSVPs, sending reminders and adding gift wishes or potluck sign-ups, Evite ensures that you have everything you need to make your party a success.
2. PartySlate
PartySlate enables users to efficiently plan and create their party by providing easy-to-use features to enhance the event. The app has several features including the ability to browse an exclusive collection of curated party images or searching for vendors. The app offers a range of 9 categories of parties from birthdays, weddings to corporate events, making it an excellent choice for any event planning.
3. Trello
Trello is a handy app that enables you to track different elements of your party. You can create multiple lists to organize the party needs such as, guest list, food menu, supplies, decorations, etc. The app also has a feature that allows you to set deadlines and assign tasks to different team members. Additionally, you can add other collaborators to your Trello board so everyone can stay on the same page when it comes to party planning.
4. Canva
Canva is an excellent app to design beautiful invitation cards and graphics for your party. The app offers a range of beautiful templates that can be easily edited to fit your requirements. It also offers an array of different design elements, including graphics and illustrations that can be customized to match the theme of the party.
5. Party Planner
Party Planner is a comprehensive app that helps you track and manage all aspects of your party in one place. The app provides features that allow you to create a guest list, create a checklist of to-do's, and even track your budget. Additionally, it offers several themes and customized designs to make invitation cards and posters.
In conclusion, these apps are a great way to streamline and simplify the process of organizing an event. With their multiple functions and easy-to-use features, party-planning no longer has to be a daunting task. Whether you're hosting a small gathering or a grand event, these apps can be a fantastic tool to create a successful, and memorable, party.