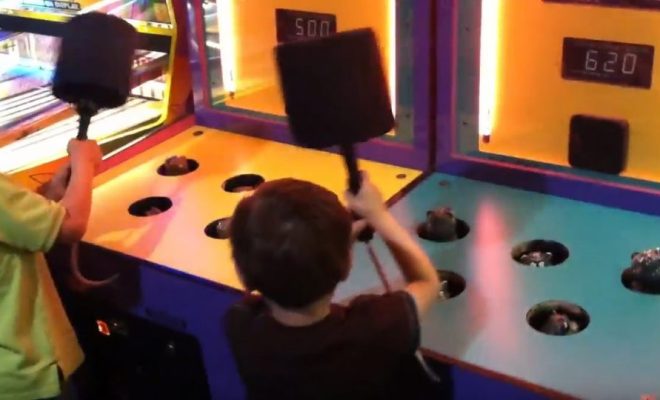 Whack-A-Mole is a popular arcade game that has been entertaining people of all ages for decades. It is a simple game that involves hitting toy moles with a mallet as they pop out of holes on a board.
The game usually consists of a large cabinet, which houses the game's electronic and mechanical system, and a playing surface which is a series of holes. The holes are large enough to allow a mechanized mole to poke its head through, and small enough to prevent the mallet from falling through.
In the original version of the game, the moles were made of rubber, and the mallet was usually wooden. In modern versions, the moles are often made of plastic, and the mallet is usually a soft foam or rubber to prevent injury to players.
The objective of the game is simple: hit as many moles as possible within the given time limit. The faster the player hits the moles, the higher their score will be. The game can be played alone or with friends and family, making it a fun and interactive game for all.
Whack-A-Mole is a great game for children as it helps to improve hand-eye coordination, reflexes, and timing. Adults also find this game enjoyable as it is a great stress-reliever and can distract from daily worries.
In recent years, Whack-A-Mole has evolved from its traditional arcade game roots and is now available in various other forms such as mobile games and as a prize at carnival games. There are also interactive and adult-themed versions of Whack-A-Mole found in bars and nightclubs.