What is the C Drive (C:)?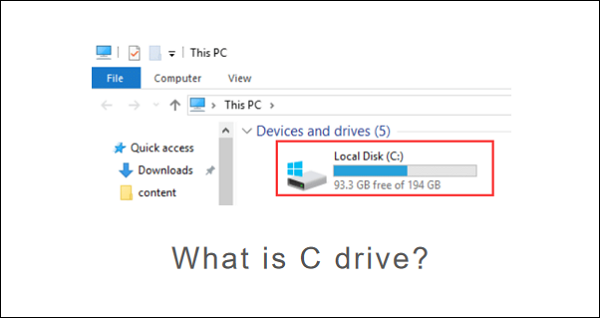 The C Drive, or C:, is a term used in computing to refer to the primary hard drive, or any other storage medium, of a computer running on Microsoft Windows operating system. It is the default location for installing programs, saving files, and storing the operating system files.
The C Drive gets its name from the fact that it is assigned the letter "C" by the Windows operating system when it is first installed. The letter "A" and "B" are usually reserved for floppy disk drives, CD drives, or other removable media devices.
The C Drive often has several folders, including the Windows folder, which contains all the necessary files to run the operating system. The Program Files folder contains subfolders for all the programs installed on the computer, while the Users folder contains subfolders for each user account on the computer. Additionally, there may be other folders created by the operating system or the user.
The C Drive can be subdivided into partitions, which creates separate sections of the hard drive with distinct drive letters. This can be useful for organizing data or installing different operating systems.
It is important to note that the C Drive is not the only hard drive in a computer. Many PCs have additional hard drives or solid-state drives that are assigned different letters, such as D:, E:, and F:. These drives can be used for storing data or installing programs, and often have larger storage capacity than the C Drive.
In conclusion, the C Drive is the primary storage location for a computer running on the Windows operating system. It often contains the operating system files, programs, and data files. While it is not the only hard drive in a computer, it is usually the one that requires the most attention and organization.