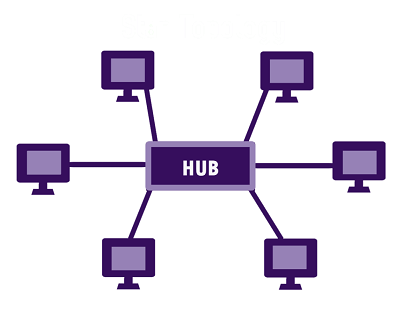 A star topology is a network topology in which all component nodes of the network are connected to a central hub or switch. This hub or switch acts as the central point, and it is the main point of communication for all other nodes, which could be computers or other networking devices. In this topology, data flows through the central hub, and every node is connected directly to it.
In a star topology, each node or device on the network is responsible only for sending and receiving data to and from the hub. The hub then manages and directs the flow of data between nodes based on pre-defined routing algorithms. This centralization of control makes it easy to detect and correct problems in the network, as it is easy to see which nodes are causing issues by monitoring the hub.
One of the significant advantages of a star topology is the ease of installation and maintenance. Because all devices are directly connected to the hub, adding or removing devices becomes a lot simpler than in other topologies such as bus, mesh, or ring. Additionally, it is easy to detect faults in a particular connected device, making troubleshooting less difficult.
Another advantage is that star topology networks can be expanded quickly by adding more nodes or switches to the hub. This means that as a business grows, a network can grow with it with minimal downtime or disruption. However, it is worth noting that once the hub becomes overwhelmed with traffic, the entire network will slow down.
One downside to this topology is that if the hub fails, the entire network will go down. Since all communication goes through the hub, the failure of one component can cause the whole network to fail. Additionally, in a star topology, network speed is dependent on the hub's capacity to receive and transmit data.