What Is NVLink and Is It Better Than SLI?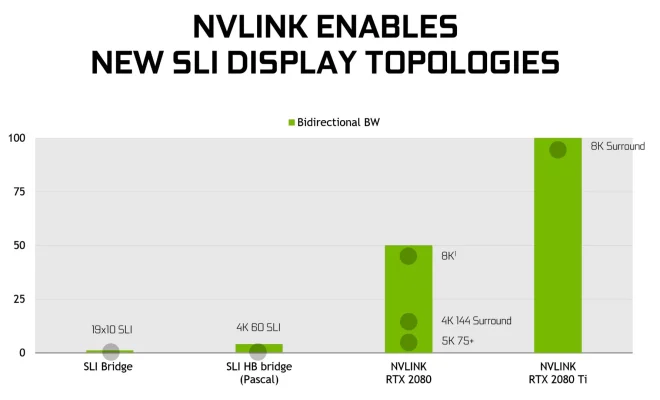 NVIDIA's NVLink is a high-speed communication interface designed to connect multiple GPUs, CPUs, and other nodes in a high-performance computing environment. This interface was introduced by NVIDIA in 2016, as an alternative to the common SLI (Scalable Link Interface) technology that has been widely used by gaming enthusiasts for many years.
NVLink is a proprietary technology developed by NVIDIA, designed to dramatically enhance the bandwidth between multiple GPUs and CPUs and deliver extreme performance for high-end computing. While SLI uses PCI Express, NVLink offers much faster and more efficient communication between GPUs, providing up to 10 times more-data throughput compared to PCIe 3.0.
The main difference between NVLink and SLI is that NVLink is a much faster and more efficient technology than SLI, designed for high-end computing applications like artificial intelligence, Deep Learning, and scientific simulations. SLI, on the other hand, was designed primarily for gaming, where two or more GPUs can be linked together to provide higher frame rates and better visual quality.
In gaming, SLI technology allows gamers to connect multiple GPUs together, which can improve overall performance in games. However, this technology typically has some limitations, as some game engines cannot utilize multiple GPUs effectively. As a result, the performance gained from SLI is frequently limited to specific games that are optimized for multi-GPU configuration.
NVLink technology, on the other hand, offers a much more flexible and efficient solution for multi-GPU configurations. This technology makes it possible to scale performance across multiple GPUs with significantly reduced overhead, allowing for more efficient and scalable use of multi-GPU configurations in a wide range of applications.
In addition, NVLink technology also provides other advantages, such as improved data transfer speeds, increased memory capacity, and reduced latency in communication between GPUs. This makes the communication between multiple GPUs more efficient than ever before, which is especially important for High-Performance Computing, where the increased speed and efficiency can significantly improve overall performance.
In conclusion, NVLink is a faster and more efficient technology compared to SLI, designed for High-Performance Computing applications. For gaming enthusiasts, SLI remains a popular choice, but for professionals in fields like scientific simulations, Deep Learning or Artificial Intelligence, NVLink is the logical choice. With its faster data transfer speeds, increased memory capacity, and reduced latency in communication between GPUs, NVLink significantly improves overall performance, making it the better choice for high-end computing applications.