What is Hybrid Fiber-Coaxial Cable (HFC cable)?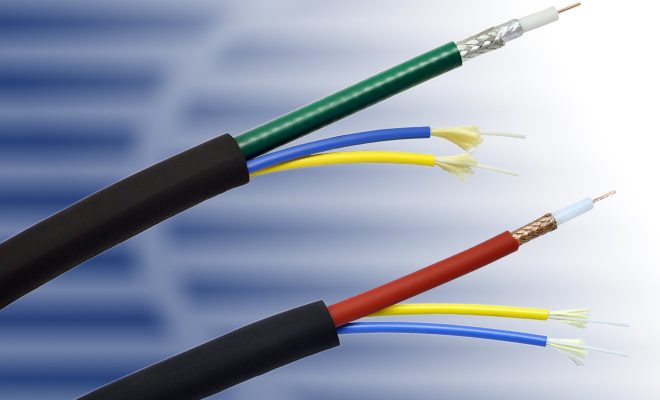 Hybrid Fiber-Coaxial Cable (HFC cable) is a type of telecommunications infrastructure that combines the advantages of optical fiber and copper coaxial cable for delivering high-speed internet, cable TV, and voice services. HFC networks are widely deployed by cable TV and internet service providers (ISPs) across the world, offering efficient and cost-effective connectivity to millions of users.
In HFC cable networks, the fiber-optic lines extend from the service provider's central office (henceforth CO) to the neighborhood distribution point or "fiber node." The fiber-optic lines can transmit data over long distances at high speeds with minimal signal loss or interference. From the fiber node, the data passes to the homes or businesses via a coaxial cable, which is the same kind of cable used in cable TV transmissions. The coaxial cable can carry data at lower speeds over shorter distances but is much less expensive to deploy than fiber-optic cables.
HFC cables are a form of broadband cabling, which means that they can carry multiple signals simultaneously. In an HFC network, multiple channels of TV, internet, and voice services can be transmitted over the same cable using different frequencies. To prevent interference, each channel occupies a unique frequency band, and the signals are modulated onto the carriers using a technique known as quadrature amplitude modulation (QAM).
HFC cable networks have several advantages over other networking technologies. They are much faster and more reliable than traditional dial-up modems and DSL connections. They are also more readily available in areas with limited access to fiber-optic networks. Additionally, cable TV providers often offer bundled internet and phone services to their customers at a lower cost than separate services from different providers.
However, HFC cable networks do have some drawbacks as well. The coaxial cable portion of the network can be susceptible to interference from electrical devices and other sources, which can affect the quality of service. The speed and quality of the internet connection can also be impacted by the number of users sharing the same network concurrently, referred to as oversubscription. Additionally, HFC cables are not typically well-suited for transmitting signals over long distances, which can result in signal degradation.
In conclusion, HFC cable is a networking technology that combines the benefits of fiber-optic and copper coaxial cables to deliver high-speed internet, cable TV, and voice services to homes and businesses. While it has its limitations, HFC cable networks remain a popular and cost-effective option for millions of users globally. It will be interesting to see how HFC networks evolve and adapt to meet the demands of an ever-increasing demand for faster and more reliable connectivity.