Wearable health technology in medical and consumer arenas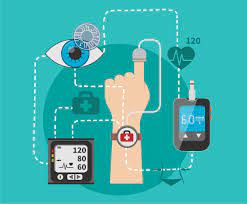 Wearable health technology has become increasingly popular in both the medical and consumer arenas. Such devices, ranging from fitness trackers and smartwatches to medical-grade devices like continuous glucose monitors and cardiac monitors, are designed to help people monitor and manage their health in real-time.
In the medical field, wearable technology has revolutionized a range of healthcare procedures such as early diagnosis, remote monitoring, and treatment of chronic diseases. With wearable health technology, doctors can remotely monitor a patient's vital signs and take preventive action before a chronic disease worsens.
Cardiac monitors are one of the prime examples of wearable health technology that help doctors monitor a patient's heart rate and irregularities continuously. In case of any abnormalities, doctors can get timely alerts about the patient's condition and provide immediate medical attention, thereby reducing the risk of heart attacks and other cardiac events.
Wearable technology has also made a significant impact in detecting chronic diseases such as diabetes. Continuous glucose monitors (CGMs) that can be worn on the body provide real-time blood sugar readings and trend data that help diabetic patients in managing their blood sugar levels. Such devices have helped patients to reduce their HbA1c levels and subsequently reduce the risk of complications such as blindness, kidney disease, and nerve damage.
In the consumer market, wearable health technology has become increasingly popular among fitness enthusiasts, who are looking for devices to monitor their daily activity, sleep cycles, and heart rate. Fitness trackers and smartwatches offer a range of features that enable users to keep track of their fitness goals and maintain a healthy lifestyle. Users can track their physical activity levels, set daily goals, and monitor their progress.
Wearable health technology has also made it easier for people to manage their mental health conditions. Devices like headbands that track brainwaves and smartwatches that monitor heart rate variability can be used to detect stress levels in real-time. By providing timely alerts, such devices help users manage their stress, anxiety, and depression.
In conclusion, wearable health technology has become an integral part of modern-day healthcare and lifestyle management. With continuous advancements in technology, wearable devices are becoming more sophisticated and functional, making it easier for people to take control of their health. As wearable technology continues to evolve, it will undoubtedly play an increasingly important role in healthcare and wellness.