Top 6 Ways to Fix Microsoft Solitaire Collection Not Working on Windows 11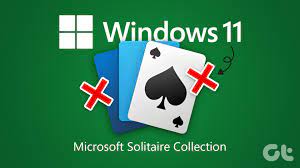 Microsoft Solitaire Collection is a popular collection of card games that has been enjoyed by millions of people for years. However, some Windows 11 users have been experiencing issues with the game, which can be frustrating. If you are one of these users, don't worry! We've compiled a list of six ways to fix Microsoft Solitaire Collection not working on Windows 11.
1. Check for updates
The first thing you should do is make sure your version of the game is up to date. Sometimes, new updates are released to fix bugs and improve performance. To check for updates, open the Microsoft Store, click the three dots in the upper-right corner, and select "Downloads and updates". If there are any updates available for the game, download and install them.
2. Clear Cache and Cookies
The Microsoft Solitaire Collection app may not work properly if the cache and cookies in your browser are bogged down or corrupted. You can try clearing the cache and cookies, which may fix the issue for you. To clear the cache, launch the Microsoft Solitaire Collection app and go to the "Settings" section. Select "Clear Cache" and "Clear Cookies".
3. Reset the App
If clearing the cache and cookies doesn't work, try resetting the app. This will restore the app to its original settings and may fix any problems that were preventing it from functioning properly. To reset the app, go to the "Settings" section of the game and choose "Reset".
4. Reinstall the App
If all else fails, try reinstalling the app. Sometimes, files can become corrupted or missing, preventing the app from working properly. To reinstall the app, go to the "Apps and Features" section in Windows 11 settings and click on the Microsoft Solitaire Collection app. Select "Uninstall" and then visit the Microsoft Store to download and reinstall the app.
5. Check for Compatibility Issues
The version of Microsoft Solitaire Collection you're using may not be compatible with Windows 11. If this is the case, you may experience issues with the game. To check for compatibility issues, right-click on the game's icon and select "Properties". Go to the "Compatibility" section and select "Run this program in compatibility mode for" and choose a previous version of Windows. Click "Apply" and "OK" to save the changes.
6. Run the Troubleshooter
Lastly, try running the Windows 11 troubleshooter to fix any issues with the game. To do this, go to Windows 11 Settings and click on "Update and Security". Select "Troubleshoot" and then select "Additional troubleshooters". Find Microsoft Solitaire Collection on the list of apps and click on "Run the troubleshooter".
In conclusion, if you're experiencing issues with Microsoft Solitaire Collection not working on Windows 11, try these six methods to fix the problem. With a little bit of troubleshooting, you'll be back to playing the popular card game in no time.