Top 5 Ways to Fix Error 0x8007003B on Windows 11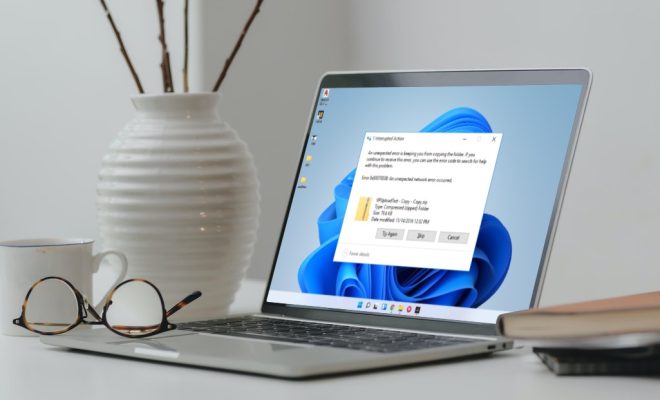 Windows 11 is the latest and greatest version of Windows, but like any operating system, it can run into errors from time to time. One common error that users have reported is 0x8007003B, which occurs when trying to transfer files from one location to another. This error can be frustrating and prevent you from completing essential tasks. With that said, here are the top five ways to fix error 0x8007003B on Windows 11.
1. Run the Windows Troubleshooter
Windows 11 has a built-in troubleshooting tool that can help diagnose and fix various issues, including the 0x8007003B error. To access the troubleshooter, go to Settings > Update & Security > Troubleshoot. Select the option to troubleshoot File and folder sharing, and follow the on-screen instructions to complete the process.
2. Disable Firewall or Antivirus Software
Sometimes, antivirus or firewall software can block file transfers and cause the 0x8007003B error. To check if this is the case, temporarily disable your antivirus software or firewall and try the file transfer again. If the error disappears, you can re-enable your security software and add an exception to allow the file transfer.
3. Check the Network Connection
A weak or unstable network connection can also cause the 0x8007003B error. Check your Wi-Fi or Ethernet connection and make sure it's stable and fast enough to handle the file transfer. You can try resetting your modem or router and see if that helps. Alternatively, you can try connecting to a different network or using a wired connection.
4. Update the Drivers
Outdated or corrupt drivers can also cause the 0x8007003B error. To fix this, go to Device Manager and check for any outdated or corrupt drivers. If you find any, right-click on the driver and select Update Driver. Windows will automatically search for and install the latest drivers.
5. Use a Third-Party File Transfer Tool
If all else fails, you can try using a third-party file transfer tool. These tools are designed to be more efficient and reliable than Windows' built-in file transfer capabilities. Some popular options include FileZilla, WinSCP, and TeraCopy.
In conclusion, the 0x8007003B error can be a frustrating issue, but it's far from insurmountable. By following the five tips above, you should be able to fix the error and get back to your work. Whether you use the built-in Windows troubleshooter or a third-party file transfer tool, the key is to be patient and persistent in your troubleshooting efforts. Good luck!