Tips to Optimize Your Windows 11 PC for Gaming Performance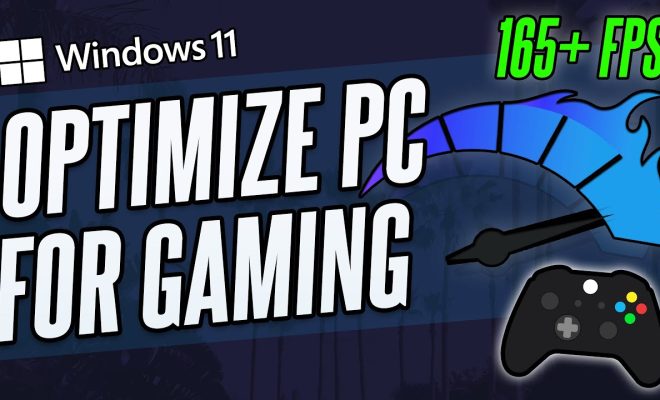 For gamers, having a computer that can handle the demands of their favorite games is essential. With the release of Windows 11, gamers have a powerful new tool at their disposal. However, just having the latest operating system is not enough. To get the most out of your Windows 11 PC, you need to optimize it for gaming performance. Here are some tips to help you do just that.
1. Keep your drivers up to date
The latest drivers for your GPU and other hardware can make a big difference in gaming performance. Check the websites of the hardware manufacturers for the latest drivers and install them regularly.
2. Disable unnecessary background processes
Background processes can eat up CPU and memory resources, slowing down your gaming experience. To disable unnecessary processes, press Control+Shift+Escape to open the Task Manager. Click on the processes tab, sort by CPU or memory usage, and end any processes that you don't need.
3. Use Game Mode
Windows 11 comes with a built-in Game Mode that prioritizes system resources for games. To activate Game Mode, press Windows Key + G to open the Game Bar, click the settings icon, and toggle the Game Mode switch to On.
4. Optimize graphics settings
Adjusting your graphics settings can help you get the best performance from your PC. Open your game and head to the graphics settings section. Adjust settings like resolution, texture quality, and anti-aliasing until you find a balance between performance and visual quality.
5. Turn off visual effects
Windows 11 comes with a variety of visual effects that can look great but use up system resources. To turn them off, go to Settings > System > Advanced system settings > Performance settings, and select "Adjust for best performance."
6. Add more RAM
If your PC is running low on memory, adding more RAM can help boost gaming performance. Check the specifications of your motherboard to find out the maximum amount of RAM it can support.
7. Use a solid-state drive (SSD)
Using an SSD can improve your PC's load times and reduce stuttering during gameplay. If your PC doesn't already have an SSD, consider adding one to speed up your system.

By following these tips, you can optimize your Windows 11 PC for gaming performance, allowing you to get the best possible experience from your favorite games.