Thunderbolt vs. USB-C: Everything You Need to Know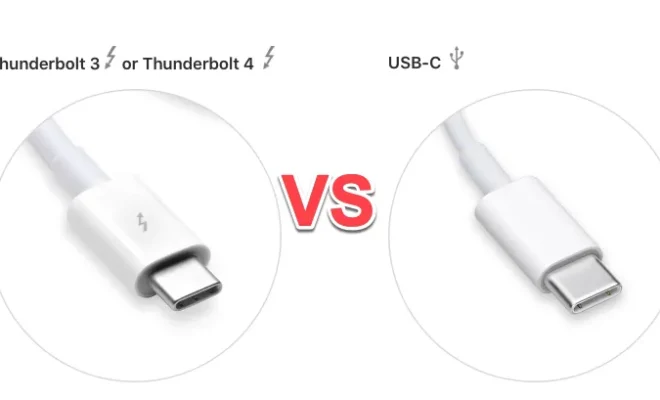 Thunderbolt and USB-C are both popular types of connectors used in various electronic devices. These connectors are designed to provide faster data transfer rates and power delivery capabilities. Thunderbolt is an older technology that was developed by Apple, while USB-C is a newer standard that is widely embraced by manufacturers due to its flexibility and compatibility with various devices.
To help you understand the differences between Thunderbolt and USB-C, we have compiled everything you need to know about them.
Thunderbolt
Thunderbolt is a high-speed data transfer technology that was first introduced by Intel in 2011 in collaboration with Apple. The original Thunderbolt version used a proprietary connector and provided a maximum data transfer speed of 10 Gbps.
In 2015, Intel released Thunderbolt 3, which used the USB-C connector and provided a maximum data transfer speed of 40 Gbps. Thunderbolt 3 also supports power delivery of up to 100 watts, which can power and charge high-performance devices such as laptops and monitors.
Thunderbolt 3 is now the standard used in most high-end devices, including the MacBook Pro, Dell XPS, and Lenovo ThinkPad. However, Thunderbolt 3 ports are still relatively expensive, and not all devices support them.
USB-C
USB-C is a newer standard that was introduced in 2014 by the USB Implementers Forum (USB-IF). USB-C is a smaller and more versatile connector than the traditional USB-A connector. It can be used for data transfer, power delivery, and video output.
The USB-C standard supports a maximum data transfer rate of 10 Gbps, which is half of Thunderbolt 3's speed. However, USB-C is more widely adopted and less expensive than Thunderbolt 3. Most modern laptops, smartphones, and tablets use USB-C ports.
In terms of power delivery, USB-C provides a maximum power output of 100 watts, similar to Thunderbolt 3. This means that USB-C can charge and power many laptops and other high-performance devices.
Which one is better?
The answer to this question depends on your specific needs. If you require the highest data transfer rates and power delivery capabilities, then Thunderbolt 3 is the better option. Thunderbolt 3 is ideal for professionals who need to work with large files, display high-resolution content, and charge multiple devices simultaneously.
On the other hand, if you only need to transfer smaller files and charge your devices, then USB-C is a great option. USB-C is more compatible with various devices, less expensive, and more convenient for everyday use.