The History Behind Shazam, the Biggest App to Identify Music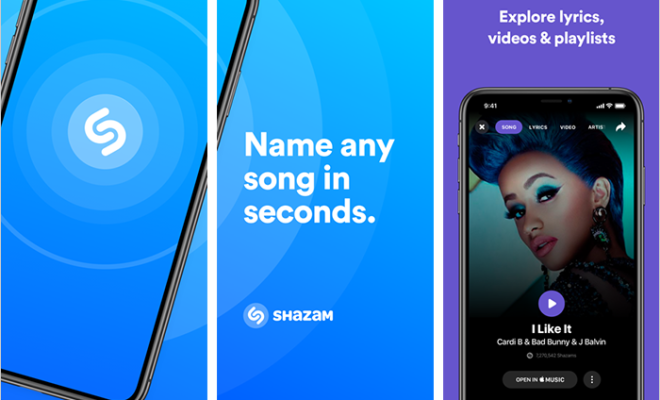 Shazam is a mobile application that is used to identify music and other types of media, such as TV shows and advertisements, on the go. The app itself was first launched in 2002, and it has come a long way since its creation. Today, Shazam has become the largest and most popular app in its category, with over 1 billion downloads worldwide.
The idea for Shazam was first conceived by a group of four friends who met at a computer science seminar at the University of California in 1999. They were all passionate about music and were curious about how they could use their knowledge of digital signal processing to create a tool that could identify songs on the radio. It was then that the idea for the Shazam app was born.
After many long years of research and development, Shazam was first launched in the UK in 2002. At the time, the app was only able to identify the titles of songs – it was unable to provide any additional information, such as the artist or album name. Nevertheless, it was a major breakthrough in the world of music, and it quickly gained popularity among users.
In the years since its launch, Shazam has come a long way. Today, the app is capable of identifying almost any type of music, as well as other types of audio media. It can also provide users with additional information about the song, such as the lyrics and music video, and it can even send users to streaming platforms where they can listen to the full track.
There are now many competitors in the market, but Shazam remains the biggest app to identify music. Its success is due in no small part to its user-friendly interface and the accuracy of its identification algorithm. Its developers have also worked hard to integrate the app into other platforms, such as Snapchat and Instagram, where users can share their music discoveries with friends and family.
In early 2018, Shazam was acquired by Apple Inc. for a reported $400 million. Since the acquisition, the app has been updated to work seamlessly with the Apple Music streaming service, making it even easier to discover and listen to new music.
In conclusion, the history behind Shazam is an interesting one. Its origins can be traced back to a group of friends who were passionate about music and curious about how they could use technology to make music identification easier. Today, Shazam is a household name, and its developers continue to work hard to make it even better for music lovers around the world.