Has Microsoft Defender Antivirus Found a Threat? How to Remove It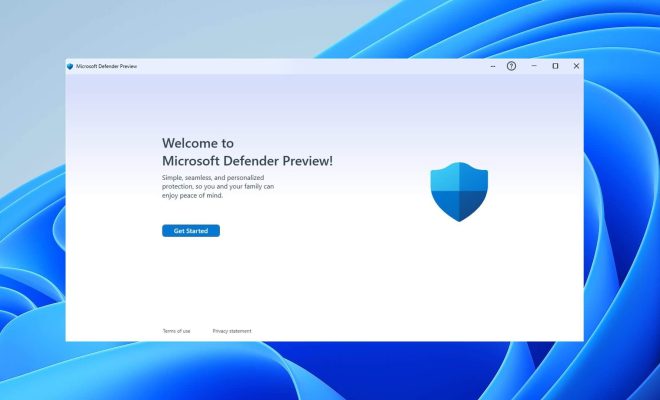 Microsoft Defender Antivirus, formerly known as Windows Defender, is an antivirus program developed by Microsoft that is built-in to Windows 10. It provides real-time protection and scanning features to protect your device from various online threats. However, sometimes it may detect a threat and prompt you to remove it. In this article, we will discuss how to remove a threat detected by Microsoft Defender Antivirus.
Step 1: Identify the Threat

When Microsoft Defender Antivirus detects a threat, it will display a notification and provide you information about the detected malware. Make sure to take note of the threat name and other important details provided by the notification.
Step 2: Perform a Full Scan

After identifying the threat, you should perform a full scan of your system to ensure that there are no other threats present on your device. To do this, open Microsoft Defender Antivirus by clicking on the shield icon in the taskbar or by searching for it in the Start menu. In the dashboard, click on the "Virus & threat protection" option, and then click on the "Quick scan" option. This will start a full scan of your system, which may take some time depending on the size of your device.
Step 3: Quarantine or Remove the Threat
Once the full scan is complete, Microsoft Defender Antivirus will display a list of threats detected on your device. Select the threat that was identified earlier and choose either "Quarantine" or "Remove" depending on the severity of the threat. Quarantining the threat will isolate it from your system, while removing it will delete the malware from your device entirely.
Step 4: Restart Your Device
After successfully removing or quarantining the threat, it is important to restart your device to ensure that all changes are fully applied. You can do this by clicking on the "Start" button and selecting "Power" and then "Restart."
Step 5: Ensure Your System Is Up to Date
To prevent future threats, make sure that your device is up to date with the latest versions of Windows 10 and Microsoft Defender Antivirus. You can check for updates by opening Windows Update in the settings menu and checking for any available updates.
In conclusion, Microsoft Defender Antivirus provides a free and reliable way to protect your device from online threats. If it detects a threat, it is crucial to remove it as soon as possible to ensure the safety of your device and personal data. By following these steps, you can easily remove any threat detected by Microsoft Defender Antivirus and keep your device secure.