The Difference Between ANSI Lumens and Lumens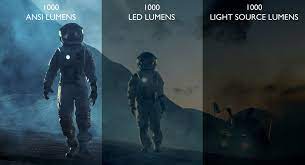 If you're in the market for a new projector, you've probably encountered the terms "ANSI lumens" and "lumens." And if you're like most people, you're probably wondering what the difference is between the two.
Lumens are a measure of the total amount of light that a projector can produce. This includes all the light that comes out of the projector, including the light that's scattered or diffused. ANSI lumens, on the other hand, are a more accurate measure of the amount of light that actually reaches the screen.
ANSI lumens are measured using a specific set of standards that take into account the size of the image, the distance between the projector and the screen, and the ambient light in the room. This means that two projectors with the same lumen rating can produce very different results, depending on how they're used.
For example, a projector with a rating of 2,000 lumens may be ideal for a small, dark room, where the image can be easily seen even with lower brightness levels. But in a brighter room, a projector with a rating of 3,000 ANSI lumens would be more appropriate, as it would provide a brighter and more visible image.
Another factor to consider is the contrast ratio, which is the difference between the brightest and darkest parts of an image. A projector with a higher contrast ratio will produce sharper, more detailed images, even with lower brightness levels.
Ultimately, the choice between ANSI lumens and lumens depends on the specific circumstances in which the projector will be used. A higher ANSI lumen rating may not always be necessary, especially if the room is always dark. On the other hand, a higher lumen rating may be required if the room is bright or if the image needs to be visible from a distance.
Overall, it's important to carefully consider all of the factors involved when choosing a projector, including its lumen rating, contrast ratio, and other specifications. With the right combination of features, you can find a projector that will provide the best possible viewing experience for your needs.