The Best Windows 11 Dark Themes to Customize Your Desktop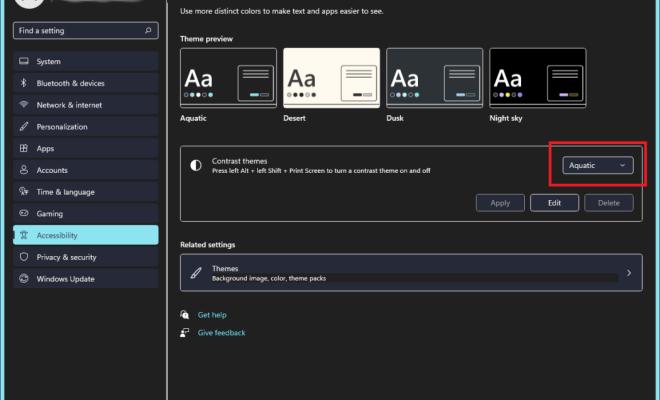 Windows 11 is the most recent release of the Windows operating system by Microsoft, and it has brought a lot of changes to the operating system. One of the essential features that have impressed the users is its customizable appearance. Windows 11 allows users to customize their desktop, including adding new themes. Among these themes, dark themes are always a favorite of many users.
A dark theme is a color scheme that can alter the appearance or color of a computer's interface. It helps to reduce strain on the user's eyes in low-light conditions, provide a modern aesthetic that is pleasing to look at, and also save some battery life on laptops. So, if you are looking for the best Windows 11 dark themes, this article will provide you an overview of some of the best options available today.
1. Fluent Dark Theme- The Fluent theme offers a very clean and elegant design, making it one of the popular dark themes. It provides a subtle blend of light and dark colors, making it easy on the eyes and reducing eye strain.
2. GreyEve Theme- GreyEve provides a bold and sharp desktop appearance, with dark colors and subtle grays. It also has a unique tray icon design, which adds to its overall look and feels.
3. Mojave Dark Mode- If you like the macOS Mojave theme but prefer to use Windows, the Mojave Dark Mode theme is an excellent option. This theme brings the look and feel of the macOS Mojave theme to your Windows 11 desktop.
4. Nimbus Dark Theme- Another excellent dark theme is the Nimbus Dark theme, which provides a sleek and modern design. It has a dark charcoal background with contrasting accent colors and has an overall minimalistic look.
5. Dark & Grey- Dark and grey theme is a popular option for those who like a consistent dark theme with nothing too flashy. It provides a consistent dark design across the Windows operating system, including the taskbar, start menu, and other interface elements.
In Conclusion, these are just a few of the best Windows 11 dark themes out there. Themes can make a significant difference in how your device looks and feels, so pick one that fits your preferences and style. Remember, these themes are customizable, so you can always tweak them to your liking and find a balance that works for you.