The Best Way to Email Multiple Photos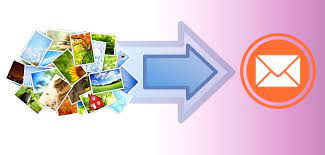 Email has become an integral part of our daily lives, and it's often used to share multiple photos with friends and family. However, if you've ever tried to do this, you know that it can be a complicated task. Sending multiple photos can clog up your recipient's inbox, take forever to upload, and sometimes, it doesn't even work. In this article, we will discuss the best way to email multiple photos so that you can easily share your memories without any hassle.
1. Compressing Your Photos
The best way to email multiple photos is to compress them into a single file before sending. This not only makes it easier to send, but it also saves time and space. There are various online tools available, such as TinyPNG, that compresses your images while maintaining image quality. Alternatively, you can use software like Photoshop or Lightroom to decrease the file size of your images. This will enable them to upload faster and not take up too much space in your recipient's mailbox.
2. Use Cloud Storage Services
There are other ways to send multiple photos without compressing them. Cloud storage services like Google Drive or Dropbox allow you to share your photos easily. Cloud storage services allow the recipient to download the images at a later time if they want. You can send a link to download the pictures, and the recipient can view or download them on their own time. This method saves time and does not clutter up the recipient's mailbox. There is no need to worry about the size of the photo files when using cloud storage services.
3. Use an Email Client
An email client is another option that allows you to send multiple photos without compressing them. An email client like Outlook or Mac Mail allows you to attach and send a large number of photos. The email client automatically compresses the photos before sending, making it convenient for the sender and the recipient. However, this solution requires both the sender and recipient to have an email client installed on their devices.
4. Send as an Album
Many photo-storage apps like Google Photos or Apple Photos allow you to create an album and share it through email. Doing so makes it quick and easy to email multiple photos. Just select the photos you want to share, create an album, and share the album link via email. The recipient can download or view the photos in the album at their convenience. Again, this method is useful if you do not want to clutter up your recipient's mailbox.
In conclusion, emailing multiple photos can be easy if you use the right method. Compressing them, using cloud storage services, email clients, or sending as an album are great ways to share photos without the added hassle of clogging up someone's inbox. The next time you want to share multiple photos with someone, consider using one of these methods. It not only makes it easier for you, but it also makes it convenient for the recipient too.